Tuna Puttanesca
This Tuna Puttanesca is so simple to make and even more delicious to eat!
Spaghetti alla puttanesca is such a simple dish, but it's so darn tasty. I know it might sound and look a little fancy, but it's one of my go-tos when I need an easy quick carb fix. Follow me…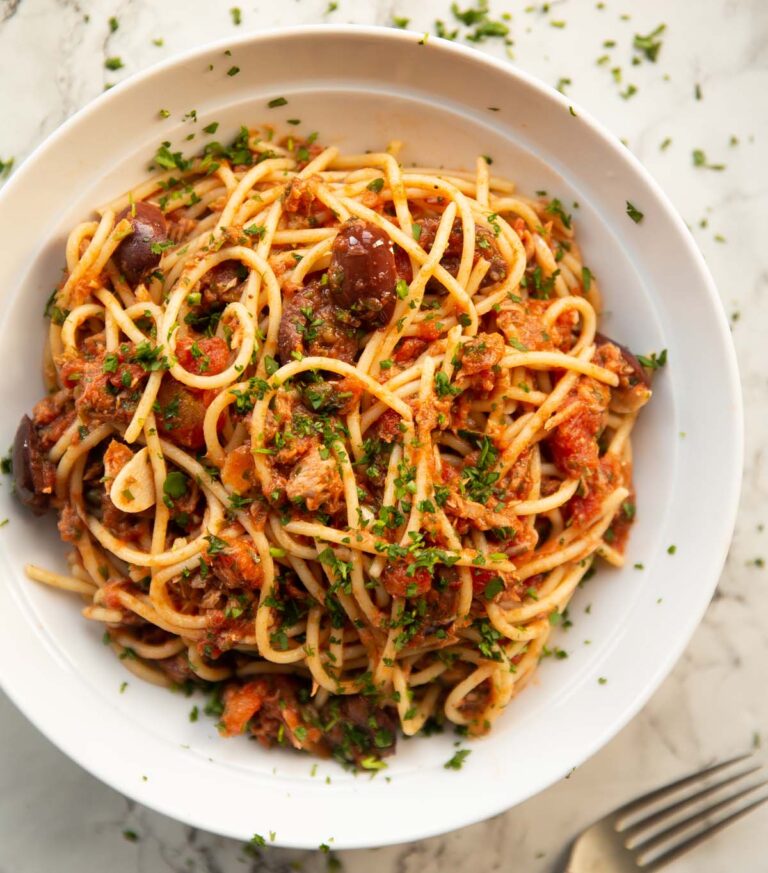 Spaghetti Puttanesca
You actually don't need many ingredients to whip up a classic puttanesca. It seems recipes do differ from region to region in Italy, and I'm in no way saying this version is truly authentic, but here's what you'll need for my take on the classic:
Spaghetti Puttanesca Ingredients
Spaghetti – or any other long-cut pasta.
Tomatoes – canned chopped tomatoes work perfectly here.
Oil – you'll want a fair amount of good quality extra virgin olive oil to create a gorgeous, silky sauce.
Garlic – this adds heaps of flavour. I like very thin slices for a more rustic finish.
Olives – traditionally you'd see black olives, but I much prefer the flavour of kalamata olives.
Anchovies – these are a crucial ingredient. You won't taste them, they melt into the sauce and offer a nice salty (not fishy!) flavour.
Capers – these add to the salty, tangy flavours of the dish.
Parsley – and lots of it! I divide a bunch into 'stalks' and 'leaves'. I then fry and simmer the stalks, then toss through the leaves at the end.
Chilli Flakes – work to spice preference, but this dish should offer a gentle kick of heat.
Puttanesca with Tuna
As you can see in the photo below, I've also got some tuna going in too. I LOVE adding tuna to this dish. It offers a boost of protein and takes on the flavours so amazingly well.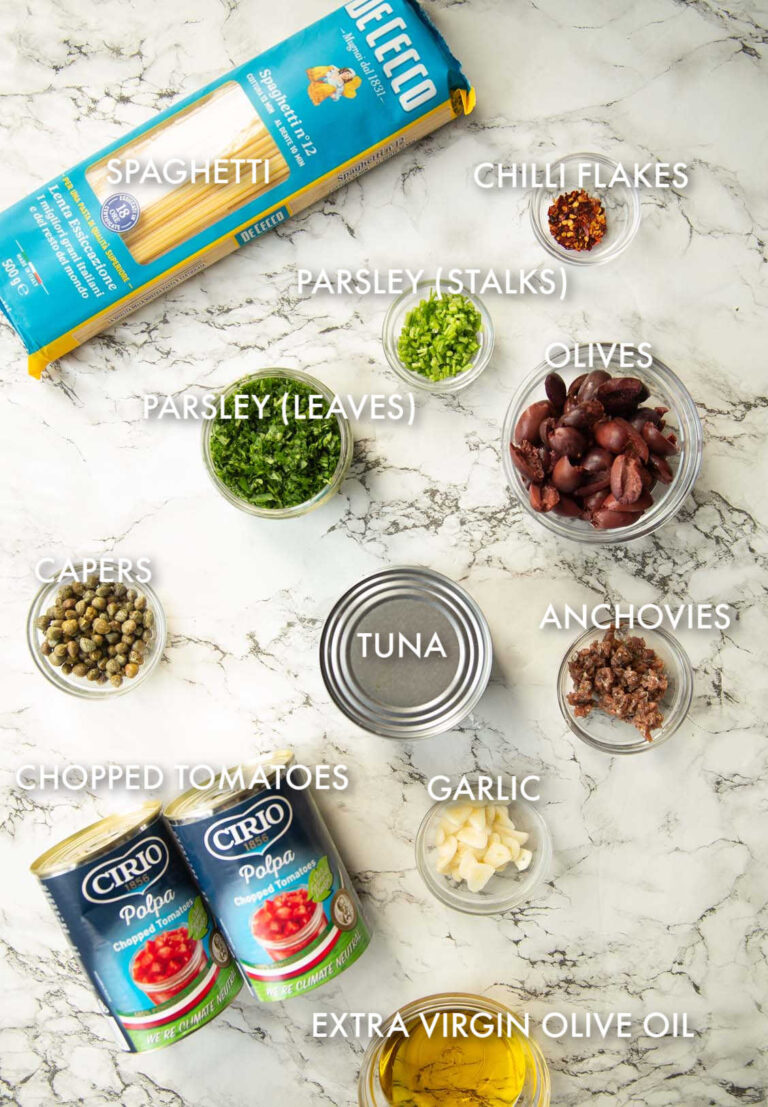 Puttanesca Sauce
Start without heat
The first thing I recommend doing is infusing the oil. You'll want to start with the oil in a pan with the heat OFF. From there, just add the garlic, capers, anchovies, parsley stalks and chilli flakes. As the heat gently rises, it tickles the flavour out of the ingredients. The anchovies will also begin to melt into the oil. Starting with the heat off also reduces the risk of the ingredients burning (namely the garlic, which turns bitter if it burns).
Simmering the sauce
In with the chopped tomatoes & olives, then give it a good simmer for 15-20mins. This not only thickens the sauce but will also help marry all the flavours together. The olives will soften and leak their gorgeous flavour into the sauce.
Process shots: add garlic, capers, anchovies, parsley stalks & chilli to oil in pan (photo 1), fry (photo 2), add tomatoes and olives (photo 3), simmer (photo 4), toss in spaghetti and parsley (photo 5), toss in tuna (photo 6).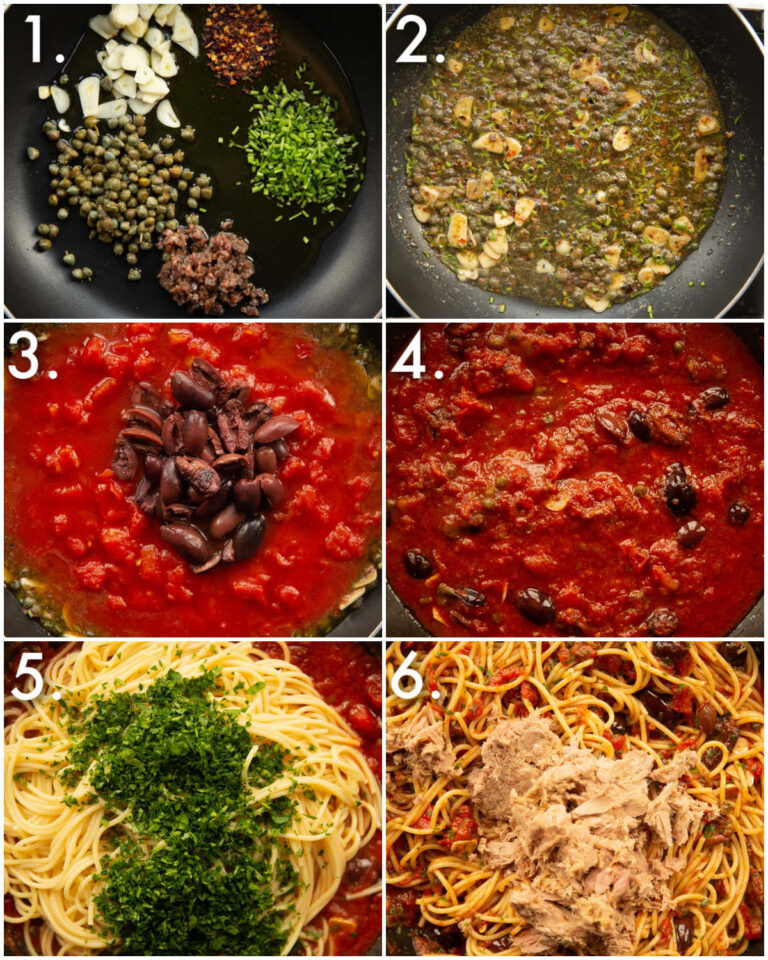 Tuna Puttanesca FAQ
Do I have to add tuna?
Nope! It is a lovely addition but this pasta is still delicious without it. Anchovies are non-negotiable though 😛
How do I stop the tuna from going mushy?
I recommend adding the tuna in right at the end, just so it doesn't break up too much as you toss the pasta. Also, make sure you're using tuna 'chunks' not tuna 'flakes'.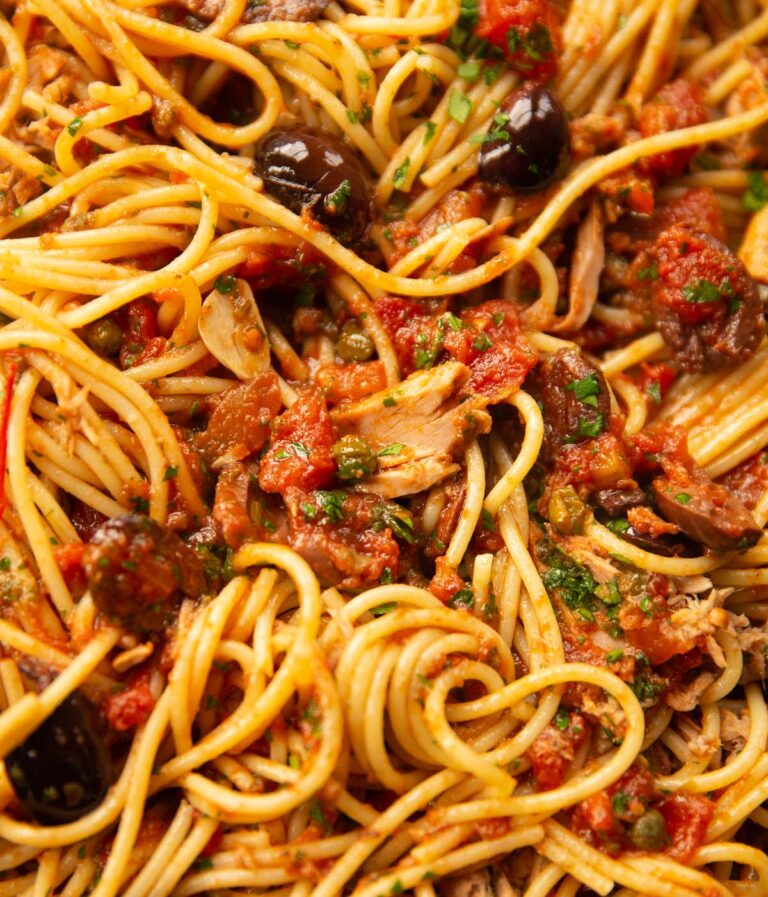 Serving Tuna Puttanesca
When it comes to serving the pasta, I actually don't serve with parmesan (I know, shock horror). But I'm sure you could sneak some on if you wanted, alongside any extra parsley you've got lurking around.
For more tuna pasta recipes check out my tuna pasta bake (Creamy Version or Tomato Version) and my Tuna Pasta Salad!
Alrighty, let's tuck into the full recipe for this tuna puttanesca shall we!?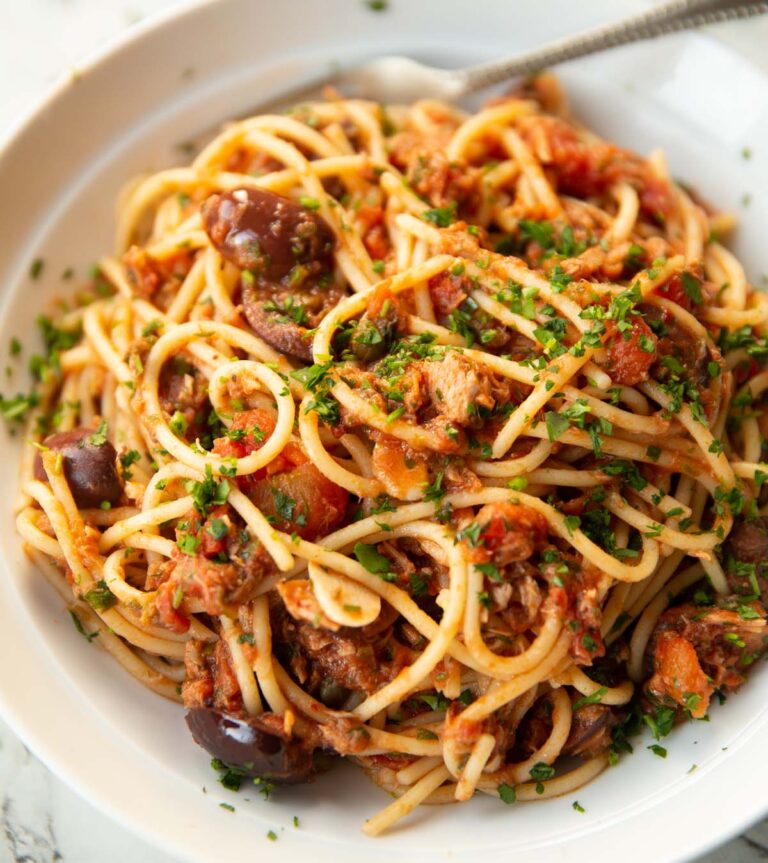 How to make Tuna Puttanesca

 (Full Recipe & Video)
Tuna Puttanesca
This Tuna Puttanesca is so simple to make and even more delicious to eat!
Equipment
Large Deep Pan & Wooden Spoon

Large Pot & Tongs

Sharp Knife & Chopping Board
Ingredients
14oz / 400g

Spaghetti, or other long-cut pasta

2x

14oz / 400g cans of

Chopped Tomatoes

2x

5oz/145g cans of

Tuna Chunks, drained

1/4 cup / 60ml

Extra Virgin Olive Oil

4oz / 120g

Kalamata Olives, halved

1

small bunch of

Parsley, separate large stalks & leaves and finely dice both (1 small bunch of parsley is 1oz/30g)

4

cloves of

Garlic, very thinly sliced

4

Anchovy Fillets, finely diced

3

tbsp

Capers

1/2

tsp

Chilli Flakes, or to spice preference
Salt & Black Pepper, as needed
Instructions
Add the extra virgin olive oil to a large deep pan with the heat off. Add in the garlic, capers, anchovies, parsley stalks and chilli flakes. Turn heat to low-medium and allow everything to gently sizzle for a couple of mins, stirring frequently. The garlic should start to soften and just about start to take on a bit of colour. The anchovies should melt into the oil.

Pour in the tomatoes and swill each can out with 1/4 cup of water. Add the swilled water in too, alongside the olives. Give it a good stir and allow to simmer for 15-20mins until it thickens up.

After around 5 or so mins of simmering, add the pasta to salted boiling water and cook until al dente. Don't drain.

Once thickened, season the sauce with salt and pepper to taste (may not need salt as capers & anchovies already salty). Use tongs to transfer the pasta straight from the pot into the sauce and toss to combine with the rest of the parsley. Add in a splash of the pasta water to thin out the sauce if needed.

Add the tuna and give a final toss (don't over-mix as the tuna can turn mushy). Serve up and enjoy!
Notes
a) Anchovies – These are crucial ingredients so don't leave them out. They melt right into the sauce and leave a nice salty flavour (that isn't fishy at all!).
b) Consistency – The sauce should thicken around the pasta and lightly coat it. The pasta water is important as the starch can help emulsify the oils in the sauce. If you go overboard with the water just continue to gently simmer and toss until the sauce re-thickens.
c) Quality Ingredients – This is quite a subtle sauce so it's important to try and use good quality ingredients (namely the olives, olive oil and chopped tomatoes). Fresh parsley is a must, don't use dried!
d) Calories – Whole recipe divided by 4.
Nutrition
Calories:
664
kcal
|
Carbohydrates:
94.9
g
|
Protein:
27.96
g
|
Fat:
20.76
g
|
Saturated Fat:
2.993
g
|
Polyunsaturated Fat:
2.8
g
|
Monounsaturated Fat:
13.519
g
|
Trans Fat:
0.007
g
|
Cholesterol:
21
mg
|
Sodium:
930
mg
|
Potassium:
1277
mg
|
Fiber:
8.4
g
|
Sugar:
12.58
g
|
Vitamin A:
1769
IU
|
Vitamin C:
31.9
mg
|
Calcium:
107
mg
|
Iron:
6.66
mg
---
For more similar recipes check out these beauties:
Classic Italian Pasta Recipes
---
The post Tuna Puttanesca appeared first on Don't Go Bacon My Heart.