Ground Beef Gyros (Smash Gyros!)
Let me introduce you to your new favourite way to make beef gyros!
Are these the most traditional gyros you'll ever make? Not even close. BUT, are they delicious and fun to make? Absolutely. Follow me…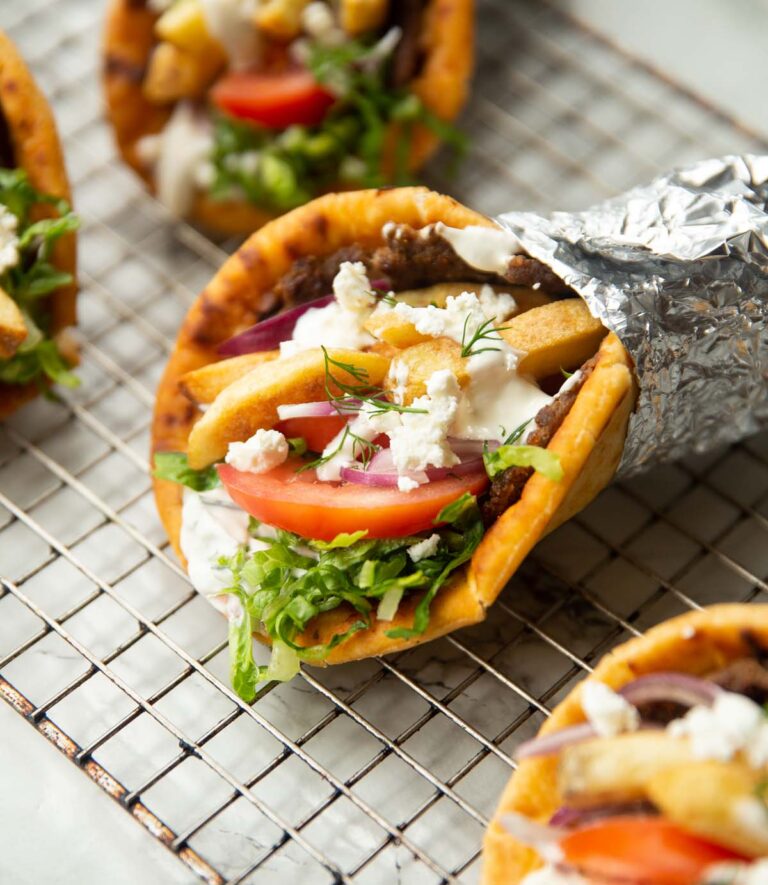 Smash Beef Gyros
If you haven't seen the viral smash big mac tacos flying around the internet, you could be living under a rock. I was going to give them a shot, but quite frankly I live next to a McDonald's and the real thing seemed more appealing. Nevertheless, I liked the idea of smashing the meat into the tortilla. It got my brain ticking and, well, here we are!
The Beef
I highly recommend using high-fat beef (20%). It helps keep the meat juicy and flavoursome. It's going to be spread quite thin, so the more fat, the better the chance they won't dry out in the pan. We're also going to season the meat with a simple concoction of store-cupboard spices.
The Bread
You'll want to use Greek-Style Flatbreads, which you'll find in most supermarkets. They're fairly thick, meaning they make a nice sturdy platform for the beef to cling to. You'll want to spread the meat right to the outside of the bread – it shrinks quite a lot in the pan!
Frying Smash Gyros
When it comes to frying the gyros, you'll want to start off with a dash of oil for the first one, then just use the excess fat from each one to continue. I wipe out most of the fat after each one, leaving a little behind for the next. You'll want to fry them meat-side-down until they build up a crust and are no longer pink (you can lift the bread to check).
Process shots: season meat (photo 1), mix (photo 2), add to flatbread (photo 3), spread (photo 4), fry meat-side-down (photo 5), flip (photo 6).
Beef Gyros
I was about to type something along the lines of 'the toppings may not be traditional' but I'm literally here smashing beef into a flatbread, so traditional has firmly gone out the window. Either way, these are my favourite toppings:
Tzatziki – Store-bought or Homemade Tzatziki.
Salad – Here I use lettuce, tomato and red onion.
Fries – I can't resist!!
Feta – Just a small crumbling on top.
Dill – A few pinches finish these gyros off beautifully!
Process shots: place gyro on chopping board (photo 1), add tzatziki (photo 2), add lettuce (photo 3), add tomato and onion (photo 4), add fries (photo 5), add feta, dill and more tzatziki (photo 6).
Serving Beef Gyros
Depending on how much filling you've got, you can try and roll them or just eat them like a giant taco. I usually fold them and wrap the ends in foil to keep them in shape. I don't serve these with any sides as they're so hearty!
For another (slightly more traditional) gyro recipe check out my Chicken Gyros!
Alrighty, let's tuck into the full recipe for these smash gyros shall we?!
How to make Beef Gyros

 (Full Recipe & Video)
Ground Beef Gyros (Smash Gyros!)
Let me introduce you to your new favourite way to make beef gyros!
Equipment
Medium Sized Mixing Bowl

(for meat)

Large Pan & Spatula

(for frying)

Kitchen Paper

Sharp Knife & Chopping Board

Foil

(for wrapping gyros – optional)
Ingredients
Smash Gyros
500g / 1lb

Minced/Ground Beef (see notes)

1.5

tsp

Dried Oregano

1

tsp EACH:

Ground Cumin, Ground Coriander, Smoked Paprika

3/4

tsp

Salt

1/2

tsp EACH:

Black Pepper, Onion Powder, Garlic Powder

4

Greek-Style Flatbreads (see notes)
Olive Oil, as needed
Toppings
Tzatziki (homemade or store-bought)
Fries
Lettuce, Tomato & Red Onion
Feta
Fresh Dill
Instructions
Add the beef to a medium-sized mixing bowl and sprinkle over all of the seasoning. Use your hands to combine until the seasoning is evenly dispersed. Don't squeeze the beef into oblivion otherwise it'll come out chewy – just enough to mix everything together.

Divide the meat into 4 and evenly spread it over each flatbread, ensuring you cover the entire surface and right to the outside (it will shrink).

Add a drizzle of oil in a large pan over medium-high heat. Once hot, add a flatbread meat-side-down and gently press down with a spatula. Fry for 3-4 mins, or until the beef is no longer pink and it has built up a bit of a crust (you can lift the flatbread to check).

Flip the flatbread over and fry for 30 seconds to heat through and lightly toast the other side. Remove from the pan, wipe out most of the fat then add the next one in.

Stack the gyros with tzatziki, lettuce, tomato, onion, fries, more tzatziki, feta and a pinch of dill. Tuck in and enjoy!
Notes
a) Beef – I recommend using high fat beef to keep the meat juicy & flavoursome. 20% is best!
b) Flatbreads – You'll find Greek-Style Flatbreads in most supermarkets, often near the tortilla wraps & pita breads.
c) Toppings – I haven't added measurements, as it's all measured with love. You can remove any toppings you really don't like, I just love this combo. For the Tzatziki I highly recommend my Homemade Tzatziki!
d) Fries – I usually whack these in the air fryer at the start and they're usually done by the time you need them, but you can bake them if you'd prefer. If you want to take things up a few notches try adding my Greek Feta Fries!
e) Calories – Just the smash gyros without toppings assuming 1/2 tbsp oil for frying.
Nutrition
Calories:
551
kcal
|
Carbohydrates:
40.58
g
|
Protein:
28.79
g
|
Fat:
29.58
g
|
Saturated Fat:
10.301
g
|
Polyunsaturated Fat:
2.183
g
|
Monounsaturated Fat:
12.869
g
|
Trans Fat:
1.497
g
|
Cholesterol:
89
mg
|
Sodium:
912
mg
|
Potassium:
471
mg
|
Fiber:
2.7
g
|
Sugar:
4.63
g
|
Vitamin A:
322
IU
|
Vitamin C:
0.1
mg
|
Calcium:
152
mg
|
Iron:
5.97
mg
---
For more similar recipes check out these beauties:
Greek Recipes
---
The post Ground Beef Gyros (Smash Gyros!) appeared first on Don't Go Bacon My Heart.