Ground Beef Enchiladas
These ground beef enchiladas are made with a homemade enchilada sauce, stuffed with Mexican beef and loaded with plenty of cheese!
If you're looking for an epic enchilada recipe then look no further! Follow me…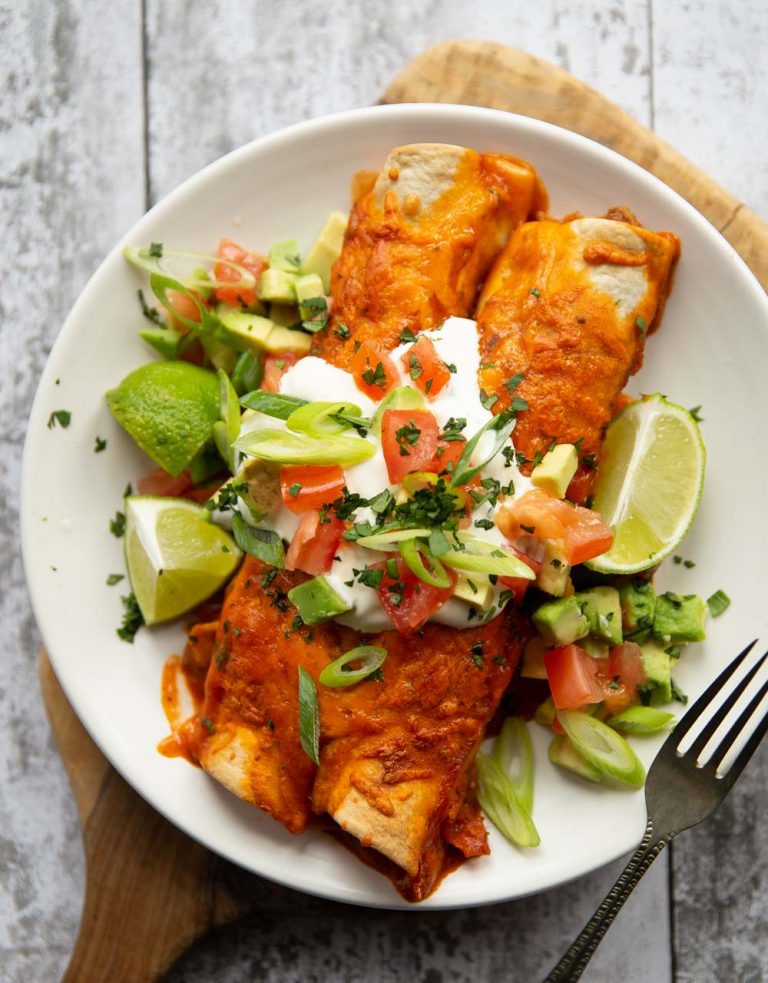 Homemade Enchilada Sauce
Step away from the store bought enchilada sauce. I repeat, step away from the store bought enchilada sauce 🤪 All jokes aside enchilada sauce is WAY too easy not to make. It's great to prep ahead of time and I bet you've already got half the ingredients on hand.
Red Enchilada Sauce
Enchilada sauce typically comes in the 'red' or 'green' variety. Today we're going red. To make the base of the sauce you're essentially making a roux, which will help thicken the sauce. However instead of using your regular butter, flour and milk, you'll use oil, flour and stock.
Tomato Puree
I.e. Tomato Paste. This will not only give you that gorgeous colour, but it also offers a nice base flavour for the sauce. One tip is to ensure you fry off the tomato puree. This will take the 'bite' out of it and ever-so-slightly sweeten it. So, once you stir the flour into the oil, stir in the tomato puree and fry before whisking in the stock.
Chilli Powder
This gives the bulk of the flavour. You can easily work to your spice preference and just add in as much as you'd like. Just absolutely make sure it's regular mild chilli powder NOT cayenne pepper.
Process shots: heat oil (photo 1), stir in flour (photo 2), add tomato puree (photo 3), stir into paste (photo 4), gradually whisk in stock (photo 5), add seasoning (photo 6), simmer until able to coat the back of a spoon (photo 7).
Ground Beef Enchilada Filling
The beef filling again is very simple. I usually go for beef that's around 5% fat – that way it doesn't leak out too much fat and make the enchiladas oily. Alongside the beef and spices, I throw in some red pepper, onion and garlic and some of the enchilada sauce to keep the filling nice and juicy!
What else can I add to the beef filling?
To make them extra spicy you could add jalapeños, to bulk everything out a bit more consider adding black beans.
Process shots: fry pepper, onion and garlic in oil (photo 1), add beef (photo 2), break up and brown (photo 3), stir in seasoning (photo 4). 
How to wrap enchiladas
Refried beans
These will not only add flavour, they'll not only stop the filling from drying out, but they'll all keep everything in tact.  I highly recommend adding these – you'll find them in most mainstream stores.
Cheese
Because why only put cheese on top of enchiladas when you can stuff cheese through the centre? 🤣 Here I sprinkle a pinch of Mexican/Spicy cheese blend in the centre, you know, just to be extra.
Process shots: lay tortilla flat and spread with refried beans (photo 1), add beef (photo 2), add cheese (photo 3), roll (photo 4).
Baked Beef Enchiladas
To kick things off you'll want to pour around 1/4 of your enchilada sauce into the base of the dish. You'll also want to pour a little in between each enchilada and between the outside enchiladas and the pan, just to stop everything from sticking together.
From there it's just a case of pouring over the rest of your sauce, sprinkling over infinite amounts of cheese and popping in the oven until golden and delicious.
What cheese to use for enchiladas?
In reality you can use most 'melty' cheeses. As mentioned earlier, I use spicy cheese blend in the centre, and here I top with cheddar. Monterey Jack also works nicely!
Process shots: pour sauce in dish (photo 1), stuff in enchiladas (photo 2), pour over more sauce (photo 3) top with cheese and bake (photo 4).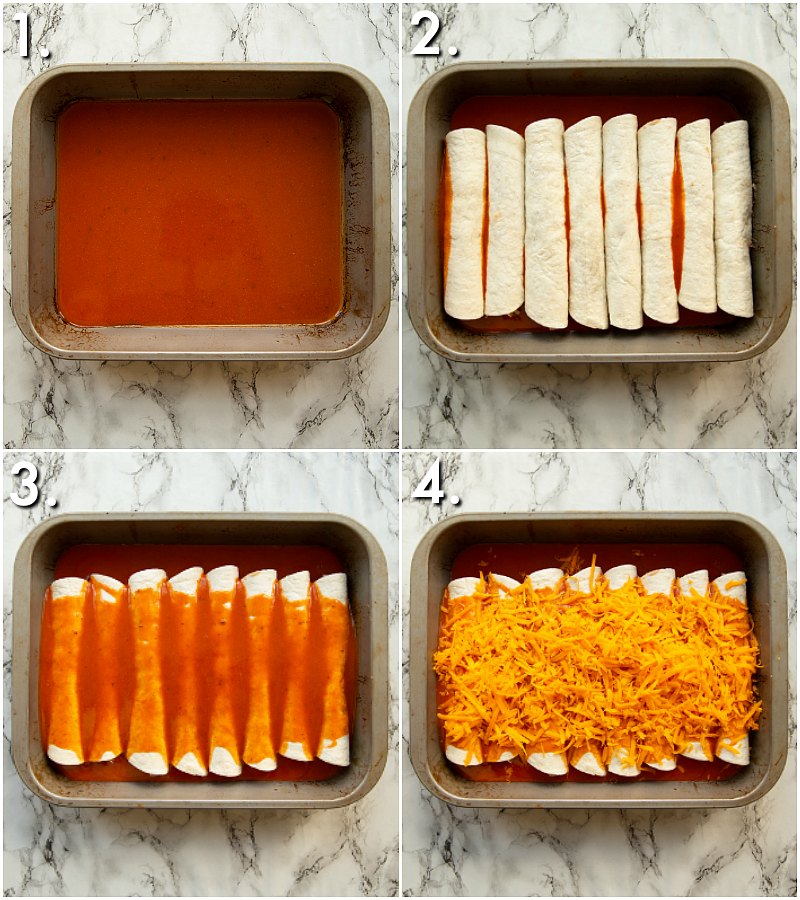 Serving Beef Enchiladas
Once they're fresh out the oven I go in with a good sprinkling of fresh coriander/cilantro. From there I usually serve individual portions with the following toppings:
Sour Cream
Avocado
Tomato
Spring Onion
Lime Wedges (optional)
Can I prep these ahead of time?
I don't recommend prepping them fully because they'll go soggy, but you can definitely make the sauce and roll the enchiladas in advance, which actually make up the bulk of prep!
And there we have it! All my top tips for the most glorious ground beef enchiladas.
If you're after more ground beef Tex Mex recipes check out my Ground Beef Tacos and Ground Beef Quesadillas!
For more similar recipes check out these beauties too:
Delicious Tex Mex Recipes
Alrighty, let's tuck into the full recipe for these beef enchiladas shall we?!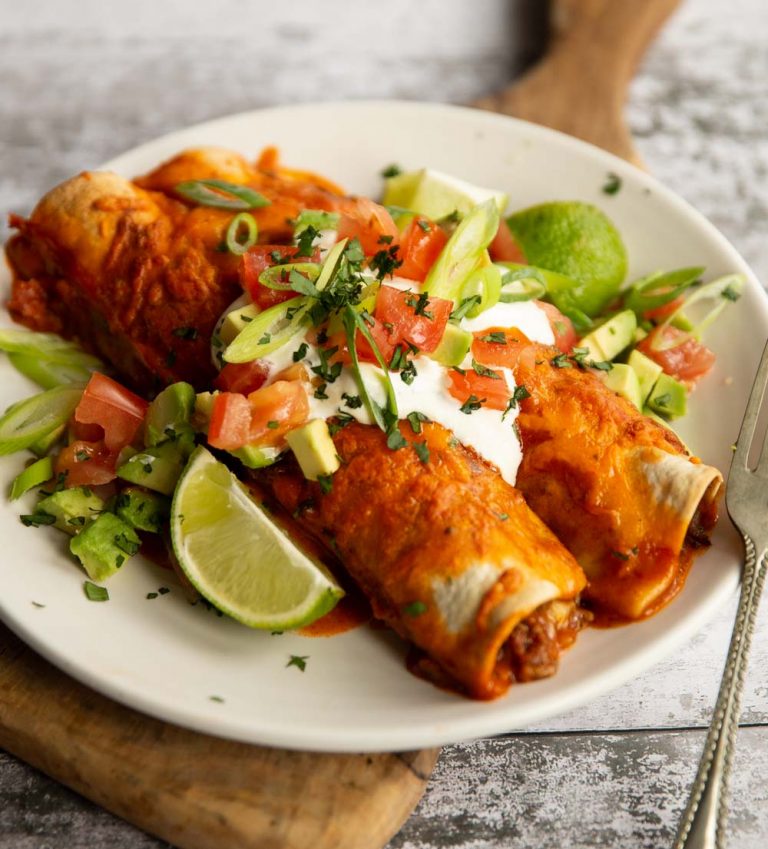 How to make Beef Enchiladas

 (Full Recipe & Video)
Ground Beef Enchiladas
These ground beef enchiladas are made with a homemade enchilada sauce, stuffed with Mexican ground beef and loaded with plenty of cheese!
Equipment
11″ x 14″ Baking Dish

Large Pan & Wooden Spoon

Sharp Knife & Chopping Board

Jug (for stock)

Cheese Grater

Plastic Spatula/Turner

Whisk
Ingredients
Enchilada Sauce
720ml / 3 cups

Chicken Stock

3

tbsp

Tomato Puree (Tomato Paste in US)

3

tbsp

Vegetable Oil

3

tbsp

Flour

1

tbsp

Hot Chilli Powder, or to spice preference (see notes)

1

tsp

Cumin

1/2

tsp

Oregano

1/4

tsp EACH:

Garlic Powder, Onion Powder
Salt & Pepper, to taste
Ground Beef
500g / 1lb

lean

Ground/Minced Beef (5-10%)

1

large

Red Pepper, finely diced

1

medium

White Onion, finely diced

2

cloves of

Garlic, finely diced

2

tsp EACH:

Paprika, Cumin

1

tsp

Oregano

1/2

tsp

Salt

1/4

tsp

Black Pepper
Enchiladas
8x 6″-7″

Flour Tortilla Wraps

1/2

a 435g/15oz can of

Refried Beans

200-250g / 2 – 2.5 cups

Cheddar, to top

100-150g / 1 – 1.5 cups

Mexican/Spicy Cheese Blend, to stuff inside (or more cheddar)
To Serve (optional)
Sour Cream (recommended)
Avocado, diced
Fresh Tomato, diced
Green/Spring Onion, finely sliced
Fresh Coriander/Cilantro, finely diced
Lime Wedges
Instructions
Sauce
In a large pot or pan over medium heat add 3 tbsp oil. Once hot, stir in 3 tbsp flour. Stir in 3 tbsp tomato puree and fry it off for a minute or so. By now a paste should form and at this point gradually begin adding in your stock, whisking as you go to avoid any lumps forming.

Once you've added the stock, season with chilli powder, cumin, oregano, onion powder, garlic powder and salt & pepper to taste. Simmer for a few mins to thicken, then remove from heat (it will thicken more as it rests).
Beef
In a large pan over medium heat add a drizzle of oil, then add in onion, red pepper and garlic. Fry until it all softens and begins to take on colour, then add in beef. Break up with a wooden spoon and fry until brown.

Stir in paprika, cumin, oregano, salt and pepper, then stir in 1/4 cup / 60ml of the enchilada sauce. Remove from heat.
Enchiladas
Lay out all of the wraps and spread each one with a dollop of refried beans in the bottom 1/3 of the wrap. Top with the beef, finish with some cheese then tightly roll up.

Spread 1/4 of the enchilada sauce in a 11″ x 14″ baking dish, then place in the enchiladas seam-side-down. Sprinkle with cheese then bake in the oven at 350F/180C for 25-30mins, or until the cheese is golden and gooey on top with the sauce bubbling around the edges.
Serve
Sprinkle over coriander/cilantro whilst in the pan, then serve up individual portions with desired toppings!
Notes
a) Chilli Powder – I use 1 tbsp 'hot' chilli powder and the sauce comes out pretty spicy. You can use regular/mild chilli powder if you'd prefer. In all cases just start off with caution and work your way up.
b) Cheese – I use a 'spicy cheese mix' you can get from Morrisons for the filling. If you can't find something similar just use more Cheddar. Monterey Jack also works nicely if you can find it.
c) Make ahead – You can make the sauce in advance, just allow to cool then tightly cover and store in the fridge. Add a splash of water if needed to loosen up when needed (it will thicken as it cools). You can also roll the enchiladas ahead of time, just tightly cover in the fridge until needed. From there, just construct everything and pop in the oven. Add an extra 5 mins or so if making everything straight from fridge.
d) Calories – whole recipe divided by 4 without additional toppings. Based using 10% fat beef, 2.5 tbsp chilli powder, 1 cup Monterey jack and 2 cups cheddar.
Nutrition
Calories:
942
kcal
|
Carbohydrates:
58.43
g
|
Protein:
57.77
g
|
Fat:
54.01
g
|
Saturated Fat:
29.996
g
|
Polyunsaturated Fat:
3.271
g
|
Monounsaturated Fat:
16.191
g
|
Trans Fat:
0.612
g
|
Cholesterol:
156
mg
|
Sodium:
1427
mg
|
Potassium:
1186
mg
|
Fiber:
6.2
g
|
Sugar:
9
g
|
Vitamin A:
3695
IU
|
Vitamin C:
54.1
mg
|
Calcium:
769
mg
|
Iron:
8.83
mg
---
The post Ground Beef Enchiladas appeared first on Don't Go Bacon My Heart.