Delicious Halloumi Hotpot
This halloumi hotpot is packed to the brim with flavour and truly couldn't be easier to make!
I was originally going to call this a 'halloumi bake', which made sense, until it didn't. Because I realised there's actually no baking involved 🤣. So, we're going with 'halloumi hotpot' as a nod to a classic hotpot (sliced potatoes on top of a meat based filing). Follow me…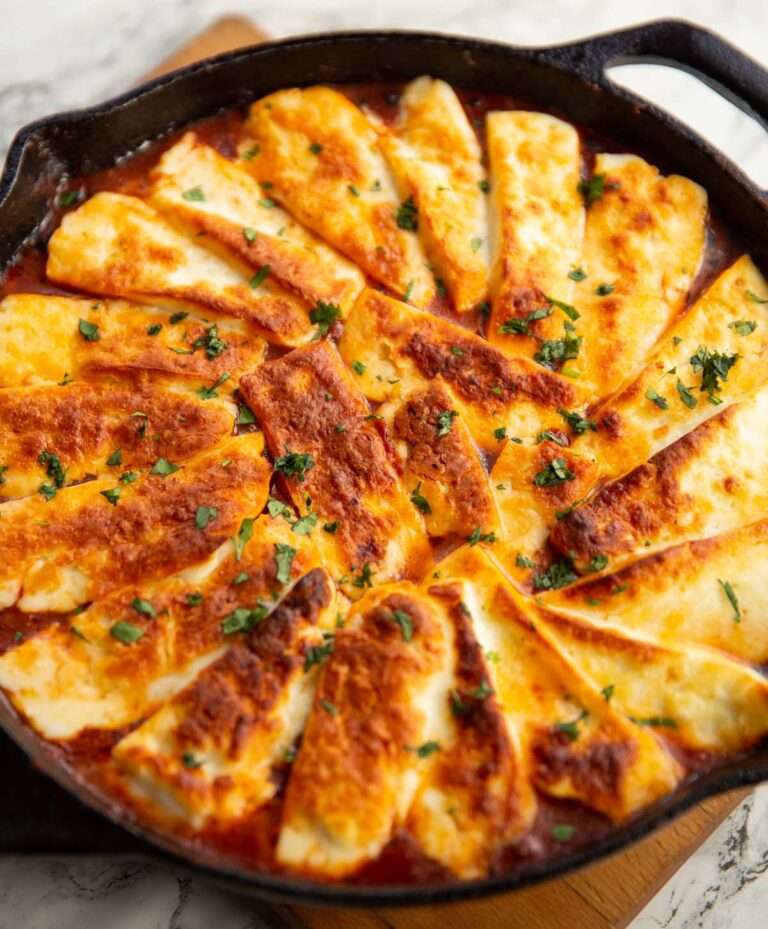 Halloumi Hotpot Filling
There's actually no halloumi in the filling, just on top. Here's what you'll need for the filling:
Chorizo – regular cured Spanish chorizo.
Pepper, Onion & Garlic – for a base flavour. These are all fried in the oil released by the chorizo.
Tomato – in the form of tomato puree and canned chopped tomatoes.
Stock – adds depth of flavour and helps the potato cook through.
Sweet Potato – offers a gorgeous sweet balance to the spicy/salty flavours of the chorizo.
Black Beans – bulk out the filling and take on all the flavours really nicely.
Seasoning – a simple spice mix of smoked paprika, cumin, cayenne pepper and oregano.
We're actually going to add the sweet potato in raw and allow it to cook in the sauce. This way it'll soak in all those gorgeous flavours. You'll want to give the filling a nice, long gentle simmer, in order to reduce it and marry all of the flavours.
Process shots: fry chorizo (photo 1), add onion, pepper & garlic (photo 2), fry (photo 3), add remaining ingredients (photo 4).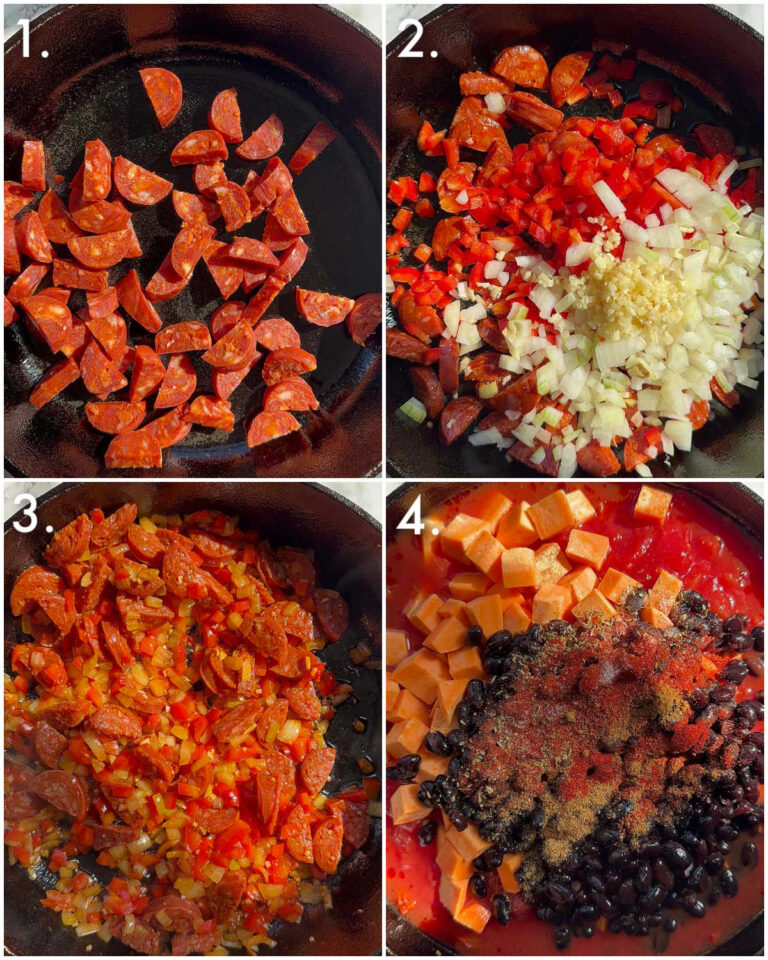 Halloumi Hotpot
Before you add the halloumi on top, you're looking for the potato to be fork tender and for the sauce to be thick & no longer watery. When you add the halloumi you'll need to overlap it slightly in order to completely cover the filling.
As I mentioned earlier, we're not going to bake this, but actually place it under the grill. The halloumi comes out much more golden/crisp. It's also quicker too!
Process shots: stir filling (photo 1), simmer (photo 2), add halloumi (photo 3), grill (photo 4).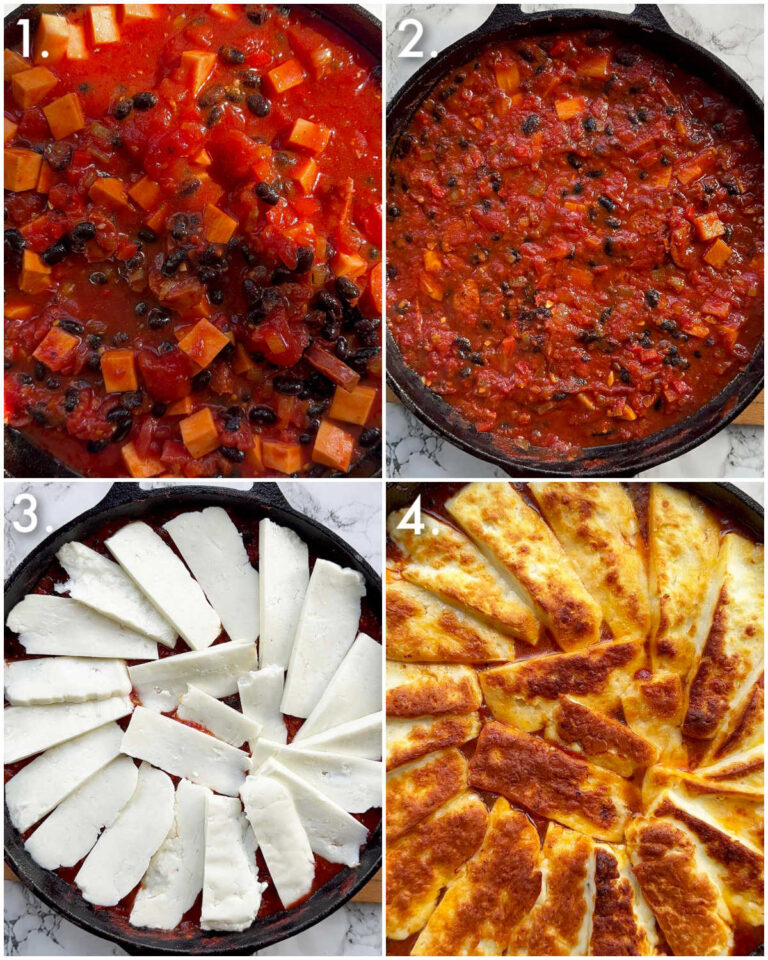 Halloumi Hotpot FAQ
How spicy is this?
It's got a good kick, but nothing overbearing. If you're at all wary just reduce the cayenne pepper.
What if I don't have an oven-safe pan?
You can simmer the filling in a regular pan and then transfer it to a suitably sized baking dish before topping with the halloumi.
Can I substitute the halloumi?
The halloumi is key here. The saltiness works really well with the spice and sweetness in the sauce. Plus it goes beautifully crispy, which counteracts the softer, saucier filling.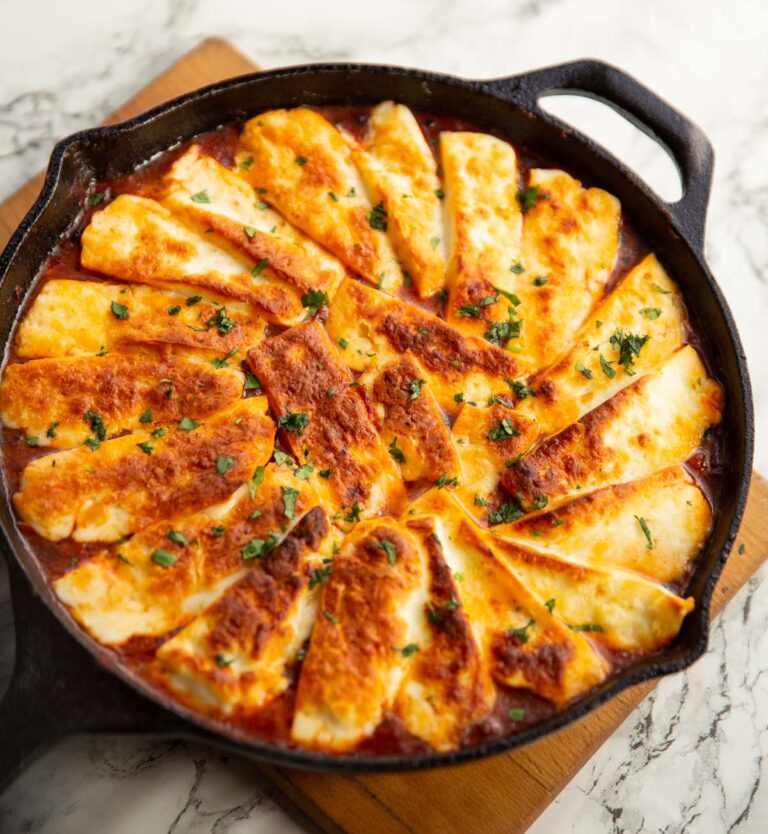 Serving a Halloumi Hotpot
To serve, I like to finish with a pinch of coriander/cilantro or parsley, whichever I've got on hand. This is optional though. I also like to serve with some sliced avocado, but again, completely optional!
For another bake/hotpot recipe check out my Chicken and Chorizo Potato Bake and Chilli Hotpot!
Alrighty, let's tuck into the full recipe for this halloumi hotpot shall we?!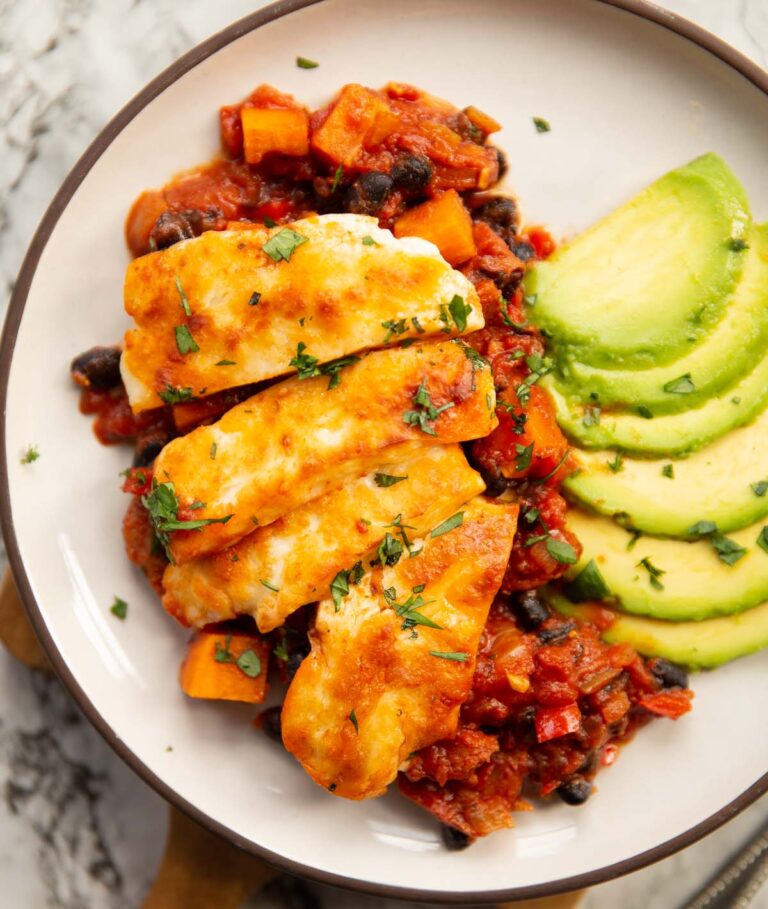 How to make a Halloumi Hotpot (Full Recipe & Video)
Delicious Halloumi Hotpot
This halloumi hotpot is packed to the brim with flavour and truly couldn't be easier to make!
Equipment
Potato Peeler

Sieve

(for draining beans)

Sharp Knife & Chopping Board

Deep Oven-Safe Pan & Wooden Spoon

(see notes)

Kitchen Paper

(for drying halloumi)
Ingredients
200g / 7oz

Spanish Chorizo, sliced into small half-moons

1

medium

Red Pepper, finely diced

1

medium

White Onion, finely diced

3

cloves of

Garlic, finely diced

2

tbsp

Tomato Puree (Tomato Paste in US)

2x

400g/14oz cans of

Chopped Tomatoes

120ml / 1/2 cup

Vegetable Stock, plus a little more if needed

200g / 7oz

Sweet Potato, diced into small cubes around 1-1.5cm

1x

400g/14oz can of

Black Beans, drained & rinsed

1.5

tsp

Smoked Paprika

1

tsp

Ground Cumin

1/2

tsp EACH:

Oregano, Cayenne Pepper (reduce to 1/4 tsp if wary of spice)

1/4

tsp EACH:

Salt, Black Pepper (or to taste)

400g / 14oz

Halloumi, thinly sliced and patted dry
Oil Spray, as needed

finely diced

Fresh Parsley or Coriander/Cilantro, to serve (optional)
Instructions
Add the chorizo to a deep oven-safe pan with the heat off. Turn the heat to medium and fry for a few minutes until it crisps slightly and begins leaking out its oils. Add the red pepper, onion & garlic and fry until soft and just starting to take on colour.

Stir in the tomato puree and fry for a minute or so, then pour in the chopped tomatoes. Use the stock to swill out the cans and pour that in too. Add the sweet potato, black beans and all of the seasoning. Give it a good stir and bring to a simmer.

Once simmering, reduce heat to low and allow everything to bubble away until the sauce is thick and no longer watery with the sweet potato fork tender, stirring every now and then (around 30 minutes). If the sauce completely thickens before the sweet potato cooks, just add in a splash more stock or boiling water to help it cook through (don't go overboard!).

Check for seasoning then turn off the heat and level the top with your wooden spoon. Place the halloumi on top in a circular pattern, overlapping slightly as needed, then lightly spray with oil. Place under the grill on high until the halloumi is crispy and deep golden/very lightly charred.

Garnish with parsley or coriander/cilantro (optional) then tuck in and enjoy!
Notes
a) Frying pan – The pan I use is a 10″/25cm x 2.5″/6cm cast-iron pan, which works perfectly. Try and use a similar size so the halloumi fits on top. Too big and you'll have huge gaps between the halloumi.
b) What if I don't have an oven-safe pan? – You can just simmer in a regular pan then pour into a suitably sized baking dish and continue from there.
c) Consistency – Try not to go overboard with the extra liquid, otherwise it can come out watery. It will also affect the halloumi's ability to crisp up if it's too watery on top. Depending on how small you dice the potatoes, the 1/2 cup stock should be sufficient. I sometimes need an extra few tbsp, but nothing overboard.
d) Serving – This is really hearty, so I typically just serve with some sliced avocado (completely optional). 
e) Leftovers – Allow to completely cool and tightly store in the fridge for a couple of days. Reheat until piping hot in the microwave! 
f) Calories – Whole recipe divided by 4.
Nutrition
Calories:
712
kcal
|
Carbohydrates:
41.12
g
|
Protein:
42.94
g
|
Fat:
42.61
g
|
Saturated Fat:
20.51
g
|
Polyunsaturated Fat:
2.973
g
|
Monounsaturated Fat:
15.916
g
|
Cholesterol:
123
mg
|
Sodium:
1790
mg
|
Potassium:
1218
mg
|
Fiber:
12.3
g
|
Sugar:
11.13
g
|
Vitamin A:
10089
IU
|
Vitamin C:
68
mg
|
Calcium:
630
mg
|
Iron:
4.9
mg
---
The post Delicious Halloumi Hotpot appeared first on Don't Go Bacon My Heart.