Homemade Filet-o-Fish
Here I'll share with you the perfect recipe for recreating the classic McDonald's Filet-o-Fish!
I'll be honest, it took me a little while to try my first ever Filet-o-Fish, but I'm truly on board. Call it a guilty pleasure, but I love 'em. When it comes to making your own, it's actually really simple and they turn out SO delicious. Follow me…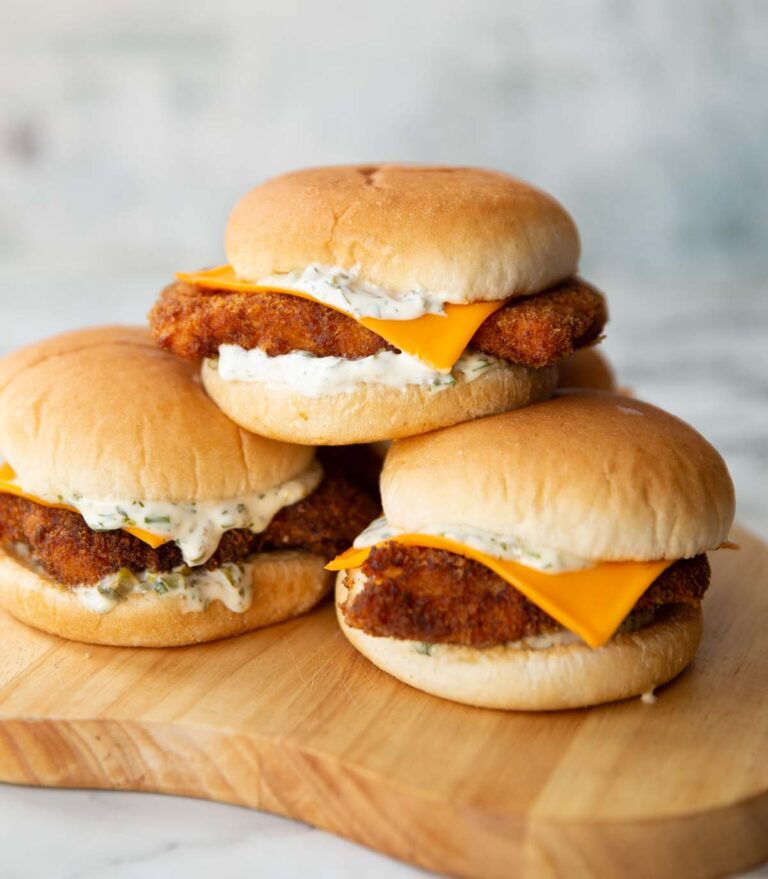 Tartare Sauce for Filet-o-Fish
There aren't too many components in a Filet-o-Fish. Just the crispy fish, cheese and of course the tartare sauce. Whilst you could use store-bought, I highly recommend making your own. I use my Homemade Tartare Sauce recipe, and whilst I think it differs slightly from McDonald's, here's what you'll need:
Tartare Sauce Ingredients
Mayo – full-fat of course!
Capers – these add a good salty punch of flavour.
Cornichons – these are small pickled cucumbers. Can use regular gherkins or dill pickles.
Parsley – adds a fresh burst of herbaceous flavour.
Dill – a classic pairing with seafood.
Lemon Juice – adds acidity and brightens up the sauce.
I think the main difference between this and the McDonald's version is the sweetness, so do add in some sugar to balance out the acidity if you like!
I recommend making this ahead of time and resting it in the fridge, just to allow the flavours to develop.
Process shots: add ingredients to bowl (photo 1), combine then chill in fridge (photo 2).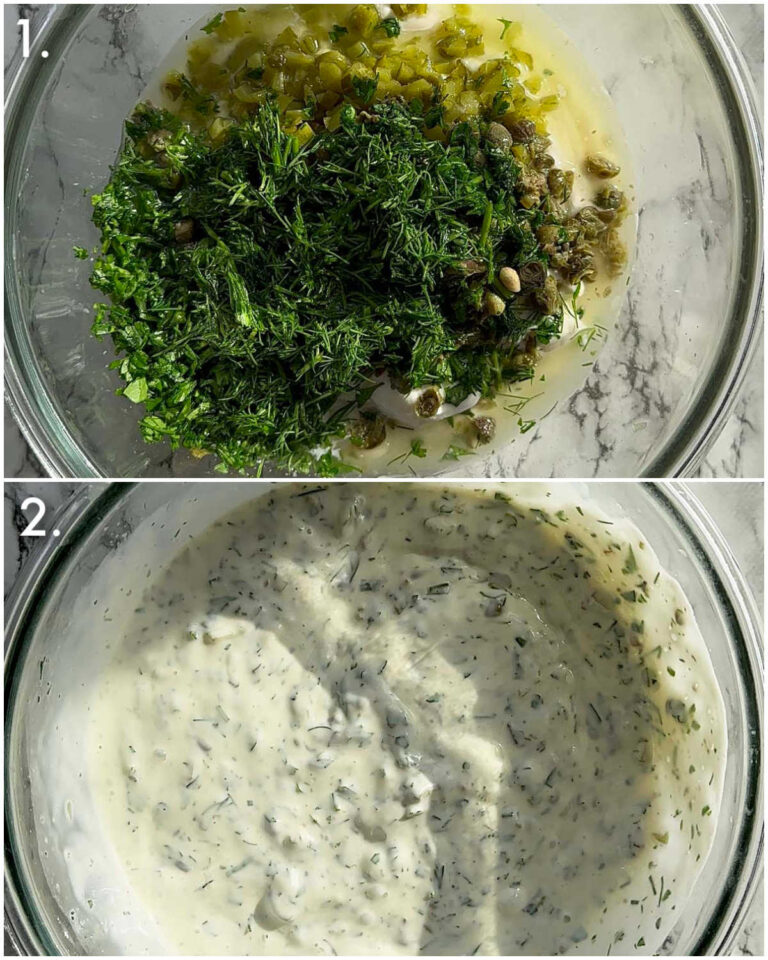 Homemade Fillet-o-Fish
For the fish itself, I believe McDonald's uses Hoki or Pollock, but realistically any type of boneless, skinless white fish should do the trick. I usually go for Cod or Haddock, which is just down to personal preference and what's most widely available.
The main thing you're looking for is for the fillets to be relatively thin and preferably square (you can slice them if needed). Although saying that, they don't have to be perfect squares, it's merely just a visual thing.
Salting the fish
I recommend sprinkling salt over the fish and leaving it to rest for 10 minutes. This will draw out moisture and help prevent the batter from going soggy. This also seasons the fish directly.
Panko breadcrumbs
These are perfect for this recipe as they turn the fish super crispy. You'll find them at most supermarkets in the Asian section.
Process shots: salt fish (photo 1), rest then pat dry (photo 2), dredge in seasoned flour (photo 3), dredge in eggs + Dijon (photo 4), dredge in seasoned Panko (photo 5).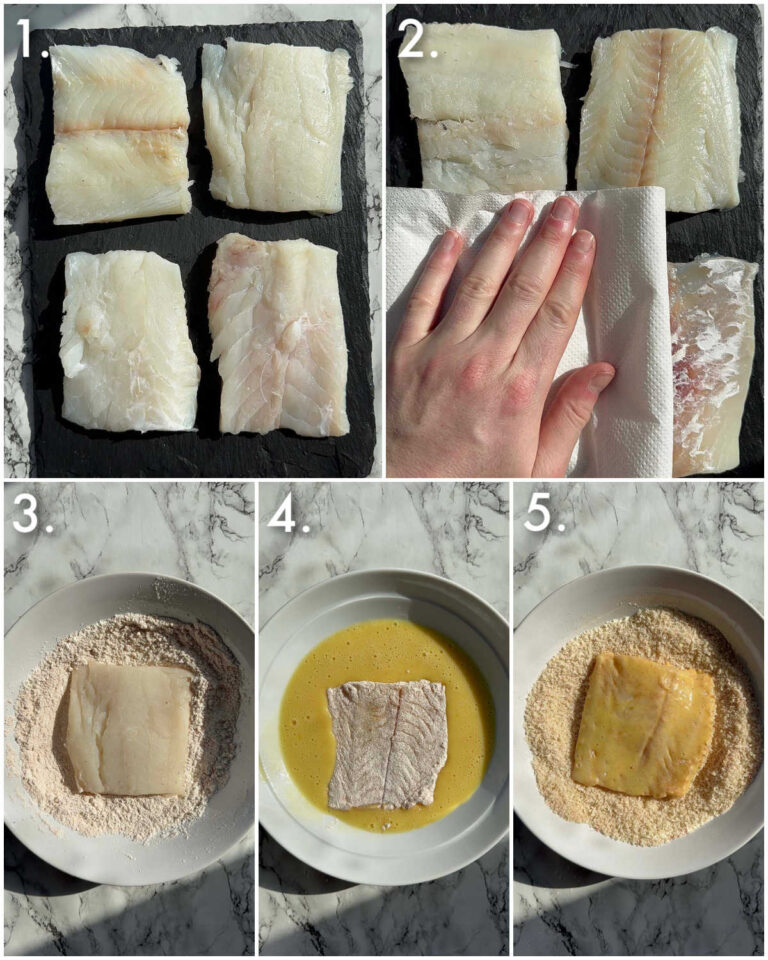 How to make Filet-o-Fish
To truly get the fish crispy, it's gotta be fried. Thankfully you only need to shallow fry it so it's pretty straightforward; you'll need just enough oil to come about halfway up the fish. I like to do two at a time, but if you've got a very large pan you could fry them all at the same time.
Once you've fried the fish, rest it on a wire rack above a tray or kitchen roll. This will allow the excess oil to drip off the fish so it doesn't go soggy as it rests. From there, chuck the cheese straight on top so the residual heat can lightly melt the cheese.
Process shots: add fish to hot oil (photo 1), fry (photo 2), add to wire rack (photo 3), add cheese (photo 4).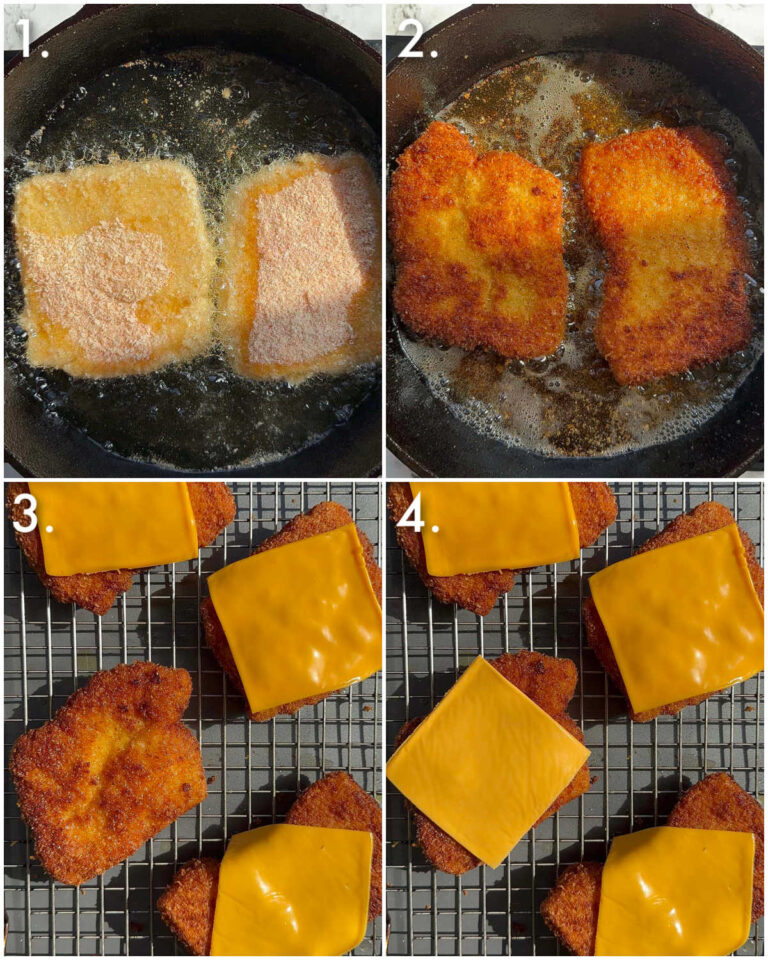 Filet-o-Fish FAQ
What is the safe internal temp for fish?
White fish needs to reach 63C/145F. It's always handy to have a thermometer on hand so you can check when the fish is done.
Can I make these ahead of time?
I don't recommend making the fish ahead of time because it won't reheat well without drying out. However, you could make the tartare sauce ahead of time.
Can I prepare them ahead of time?
Unfortunately, more bad news, the longer the fish sits in the batter, the more the salt draws out moisture from the fish, and the soggier it gets. So, these are best made fresh!
What kind of cheese should I use?
Gotta be American/Processed cheese for the full experience!
What kind of buns should I use?
McDonald's buns are notoriously sweet, so you could use brioche buns, but I typically just use regular hamburger buns.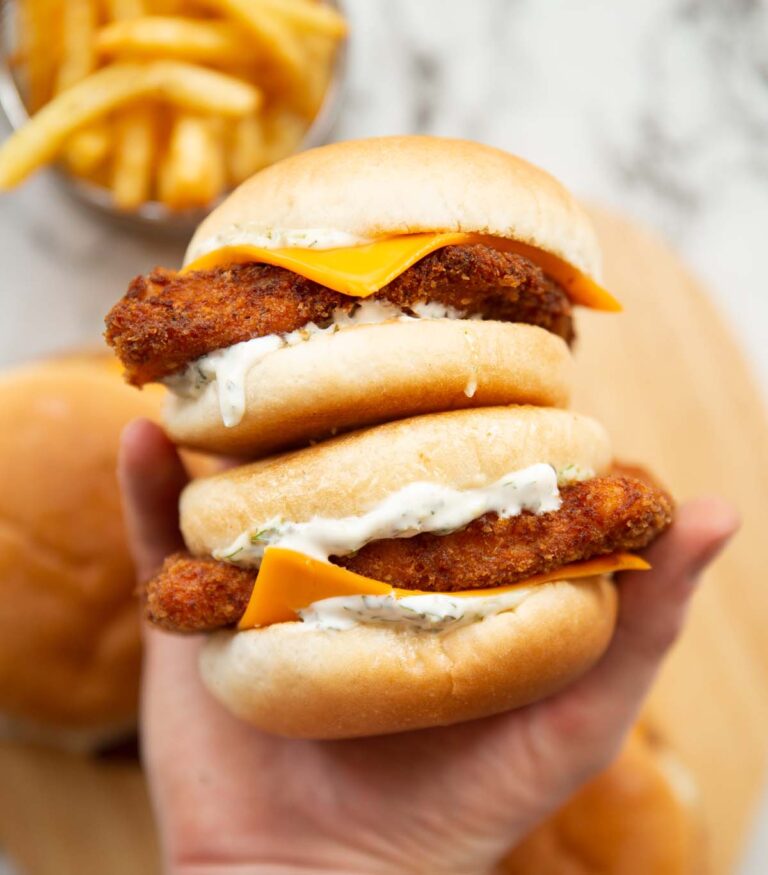 Serving a Filet-o-Fish
Serve these up right away so the fish stays crisp and the sauce doesn't go greasy. You'll likely have leftover sauce, so just tightly cover it and store it in the fridge. You can of course add fries if you want!
Looking for crispy BAKED fish recipes? Check out my Fish Fingers and Tuna Fishcakes!
Alrighty, tuck into the full recipe for these Filet-o-Fish Sandwiches shall we?!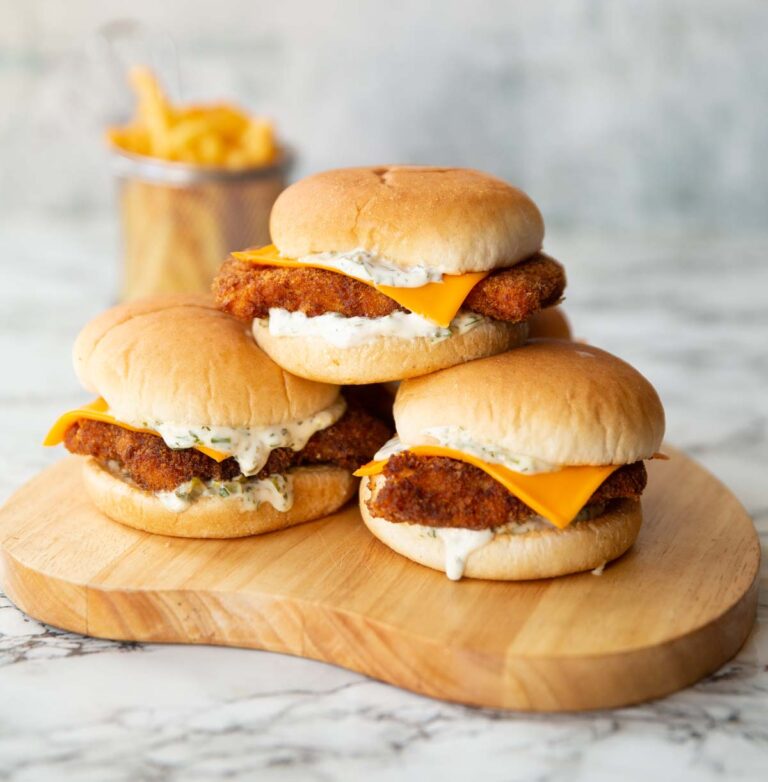 How to make Filet-o-Fish (Full Recipe & Video)
Homemade Filet-o-Fish
Here I'll share with you the perfect recipe for recreating the classic McDonald's Filet-o-Fish!
Equipment
Sharp Knife & Chopping Board

Small Mixing Bowl

(for sauce)

Kitchen Roll

(for patting dry fish)

Small Bowl/Pot

(for seasoning mix)

3 Large Shallow Dishes

(for dredging)

Heavy-Based/Cast Iron Pan & Tongs

(for frying)

Wire Rack & Baking Tray

(for resting fried fish)
Ingredients
Tartare Sauce (makes big batch)
240g / 1 cup

full-fat

Mayonnaise

2

tbsp

Capers, finely diced

2

tbsp finely diced

Cornichons/Gherkins

1

heaped tbsp finely diced

Fresh Parsley

2

tsp finely diced

Fresh Dill (see notes)

1

Lemon, juice only (or to taste)
Salt, Pepper & Sugar, to taste
Sandwich
4x

100-120g / 3.5-4oz

White Fish Fillets (see notes)

1

tsp EACH:

Salt, Paprika

1/2

tsp EACH:

Onion Powder, Garlic Powder

1/4

tsp

White Pepper

50g / 1/3 cup

Flour

2

medium

Eggs

1

tbsp

Dijon Mustard

75g / 1 1/4 cups

Panko Breadcrumbs

120 – 240ml / 1/2 – 1 cup

Vegetable Oil

4

Processed/American Cheese Slices

4

Hamburger Buns, halved & toasted (see notes)
Instructions
Combine all of the ingredients for the tartare sauce in a small mixing bowl. Season to taste and adjust with sugar to sweeten and balance out the acidity if desired. Cover and chill in the fridge until needed.

Sprinkle both sides of the fillets with 1/4 tsp salt and leave to rest for 10 or so minutes.

Meanwhile, combine the remaining 3/4 tsp salt with the rest of the seasoning in a small pot or bowl. Line up 3 large shallow dishes: 1st with flour + half of the seasoning, 2nd with eggs + Dijon beaten until smooth, 3rd with Panko + rest of the seasoning. Place a tray next to the last bowl to rest the breaded fish.

After 10 mins, thoroughly pat the fish dry to remove as much moisture as possible. One by one, dredge each piece through the flour, into the egg, then into the breadcrumbs. Finish by resting on the tray then repeat with the remaining pieces. Work fairly quickly so the batter doesn't go soggy.

Add enough oil to comfortably cover the base of a heavy-based/cast-iron pan. Turn the heat to medium-high and allow the oil to reach 180C/350F (a breadcrumb will rapidly sizzle when it's ready). In two batches, fry the fish on both sides for 2-3mins, or until golden and crisp with the centre piping hot (safe internal temp is 63C/145F). Rest on a wire rack above a tray or kitchen roll to catch excess oil and immediately place the cheese on top to lightly melt.

Stack the sandwiches with your preferred amount of sauce then tuck in and enjoy!
Notes
a) Tartare sauce – I use my Homemade Tartare Sauce recipe. I'm not sure the McDonald's sauce has dill, so you could omit it, especially if you're not keen on it. I don't tend to add salt, but a couple of pinches of pepper works nicely. The McDonald's version is also sweeter, so you can add in sugar 1/4 tsp at a time to balance out the acidity if you'd like. If you can, I recommend making this ahead of time and chilling in the fridge to allow the flavours to develop. There will likely be leftovers so just tightly store it in the fridge for a few days.
b) Fish – McDonald's use Hoki or Pollock, but I typically use Cod or Haddock. Main thing is you're using relatively thin and square pieces (approx 9cm/9cm / 3.5″/3.5″). It will shrink slightly as it cooks, so just keep that in mind. Timings will depend on the thickness of the fish, but it shouldn't take long to fry. Always handy to have a thermometer to check internal temp!
c) Toasted buns – You can do this under the grill or in a large dry pan. If you'd like, you can lightly spread with mayo or butter before toasting.
d) Working quickly – You'll want to dredge and fry fairly quickly. The batter can get soggy the longer it sits due to the salt continuing to draw out more moisture from the fish. As such, the oil may spit slightly more aggressively than you're used to, so I recommend using a long pair of tongs.
e) Calories – Per sandwich assuming half sauce is used and half the breading attaches. Also assuming 2 tsp oil soaked up per 120g fillet.
Nutrition
Calories:
616
kcal
|
Carbohydrates:
29.23
g
|
Protein:
30.11
g
|
Fat:
41.91
g
|
Saturated Fat:
16.198
g
|
Polyunsaturated Fat:
14.893
g
|
Monounsaturated Fat:
9.038
g
|
Trans Fat:
0.077
g
|
Cholesterol:
129
mg
|
Sodium:
1696
mg
|
Potassium:
474
mg
|
Fiber:
1.7
g
|
Sugar:
5.23
g
|
Vitamin A:
504
IU
|
Vitamin C:
3.3
mg
|
Calcium:
282
mg
|
Iron:
2.58
mg
---
The post Homemade Filet-o-Fish appeared first on Don't Go Bacon My Heart.