Homemade Hamburger Helper Recipe
Here I'll share with you my take on the iconic Hamburger Helper!
I feel this recipe has been a long time coming. I've seen the classic Hamburger Helper flying around the internet for many years, so I simply had to give my 10 pence (or 'cents' should I say). And yes, I have tried the original! Follow me..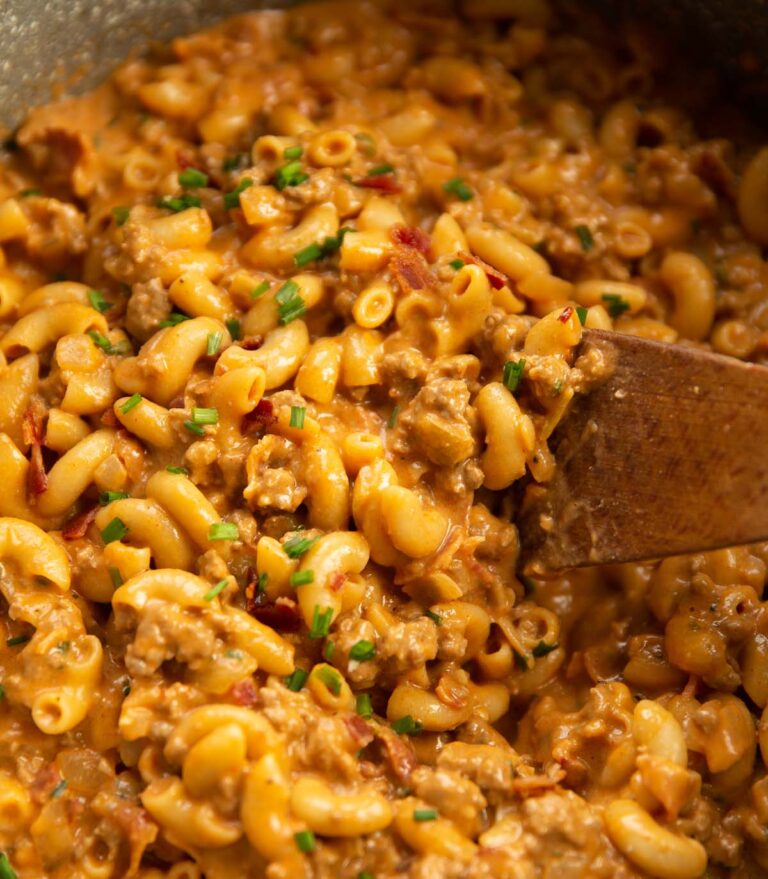 Homemade Hamburger Helper
Let's just clear a few cobwebs, especially for my fellow Brits reading this.
What is Hamburger Helper?
It's essentially a boxed mac & cheese to which you add ground beef (aka minced beef). Kind of like cheeseburger pasta if you will. For us, I'd say it's the equivalent of the red box mac & cheese you can buy at corner shops and supermarkets.
What goes into Hamburger Helper?
As I mentioned, I have indeed tried it. I went as far as to order it online because I needed the try the real-deal before I made my own version! A commitment to the cause I'd like to think. Anywho, in the box you get dried macaroni and powdered cheese, to which you add butter, water and milk. And yes, I was taken back by how bright orange the powdered cheese was 🤣
I'm not going to lie, I probably wouldn't go out of my way to buy it again (much to everyone's surprise I'm sure 😅). BUT, I saw potential. Because realistically how is cheesy beef pasta not a bit of me?!
As such, we're going to spruce it up and make our own homemade version inspired by the original. The results are DELICIOUS.
Process shots: fry bacon (photo 1), fry onion and garlic (photo 2), add beef (photo 3), fry (photo 4).
Making Hamburger Helper
I love adding bacon, not only for bonus flavour, but also because you can render down the fat and use it to fry the onion, garlic and beef. From there, I like to pack in more flavour with some yellow mustard, hot sauce and tomato puree.
Hamburger Helper Sauce
We're actually going to cook the pasta in the pot with everything else. This not only reduces washing up, but it also means the pasta soaks in all the flavour. PLUS the starch helps bind and thicken the sauce. The base of the sauce is 50:50 milk and beef stock. I find this gives you a good amount of creaminess that goes will with the cheese, but the beef stock also offers some depth of flavour.
Hamburger Helper Seasoning
You don't need to go crazy with the seasoning, as all of the other ingredients already add heaps of flavour. Having said that, I like to add some paprika and oregano, alongside the obvious salt and pepper. I like to then end with loads of chives which finishes of the dish so nicely!
What kind of cheese should I use?
I go for mainly cheddar, but I can't resist add some American/processed cheese. I find this gives a nod to the original, but not so much it's the dominating flavour.
Process shots: add hot sauce, yellow mustard and tomato puree (photo 1), stir (photo 2), simmer macaroni in milk and stock with seasoning then stir in cheese (photo 3), stir in bacon and chives (photo 4).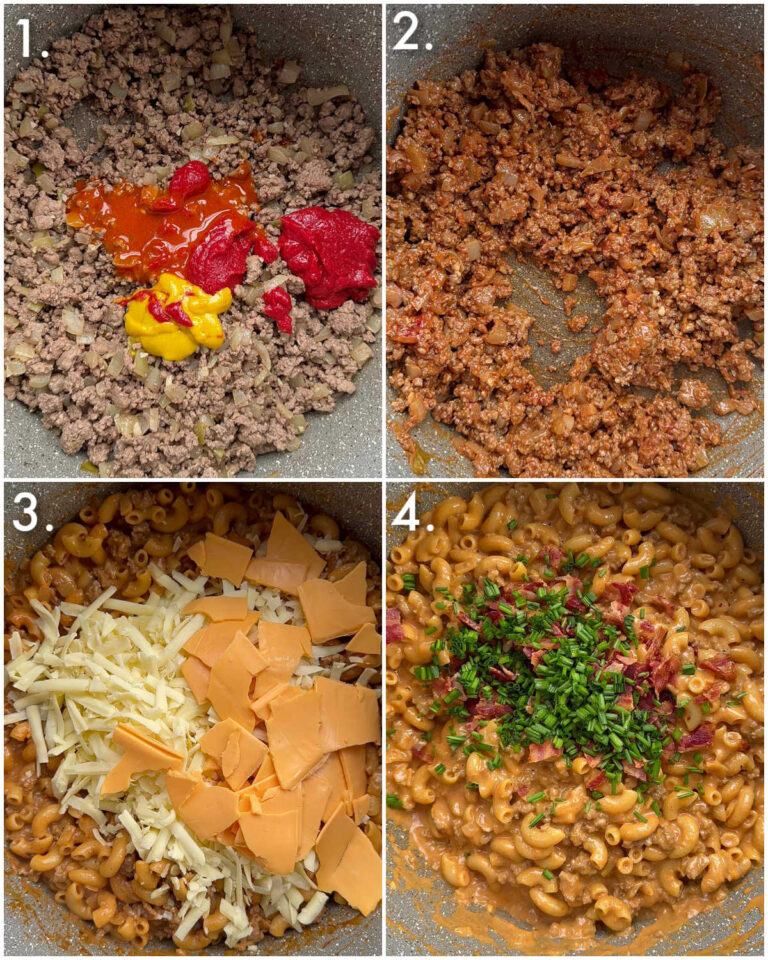 Serving Hamburger Helper
When it all comes together it's so tasty you'll forget you're eating something inspired by the boxed stuff! It's super hearty and full of flavour – you're gonna love it.
For another similar recipe check out my One Pot Chili Mac and Cheese!
Alrighty, let's tuck into the full recipe for this One Pot Hamburger Helper shall we?!
How to make Hamburger Helper (Full Recipe & Video)
Homemade Hamburger Helper
Here I'll share with you my take on the iconic Hamburger Helper!
Equipment
Sharp Knife & Chopping Board

Large Pot & Wooden Spoon

Cheese Grater
Ingredients
6

slices of

Streaky Bacon

1

large

White Onion, finely diced

3

cloves of

Garlic, finely diced

500g / 1lb

Minced/Ground Beef (5%)

3

tbsp

Tomato Puree/Paste

2

tbsp

Hot Sauce (see notes)

2

tsp

Yellow Mustard

250g / 9oz

dried

Macaroni

480ml / 2 cups

Beef Stock, or as needed

480ml / 2 cups

Whole Milk, at room temp

1 1/2

tsp

Paprika

1/2

tsp EACH:

Dried Oregano, Salt, Black Pepper

150g / 1 1/2 cups

Cheddar, grated

4

slices of

American/Processed Cheese, roughly torn (see notes)

1/2 bunch / 3 tbsp

Fresh Chives, plus more to serve if desired
Instructions
Add the bacon to a large, deep pot over low-medium heat and fry until crisp with the fat rendered. Remove from the pot and place to one side, leaving the excess fat behind. Dice just before needed.

Increase heat slightly to medium and add the onion to the leftover fat. Gently fry until soft and golden, then add the garlic and fry for another minute. Add in the beef and cook until browned, breaking up with your wooden spoon as you go.

Stir in the tomato puree, hot sauce and mustard and continue frying for another minute or so, then add the macaroni. Pour in the stock and milk, then stir in the paprika, oregano, salt and pepper. Gently simmer and stir occasionally until the sauce thickens and the pasta is al dente.

Turn the heat to the lowest it goes then stir in the cheese until it melts. Stir in the chives and bacon, then check for seasoning and adjust if needed. If at any point the sauce dries up before the pasta cooks, just add in more stock a splash at a time.
Notes
a) Bacon – I don't believe this is traditionally added to hamburger helper, but I love what it brings to the dish. Plus, you can use the excess fat to fry the onion, so you keep all that lovely flavour! Make sure it's streaky bacon as it's more fatty.
b) Cheese – I use mostly cheddar, but I unashamedly love adding the 'plastic' cheese in this. I think it's needed for some authenticity (and I actually like the flavour and gooey texture it offers). Having said that, whilst I haven't tried it myself, you could just sub more cheddar.
c) Hot Sauce – 2 tbsp adds a good kick, but nothing crazy. I have gone up to 4 tbsp before, so if you love spice you can do that. If you're wary just start with less and work your way up. I recommend adding in with the beef, not straight into the liquid as it can sometimes curdle the milk (not a big issue as it typically binds back together). I recommend Cholula or Frank's.
d) Leftovers – This is best made fresh but certainly don't waste leftovers. Just allow to completely cool then tightly store in the fridge for 2-3 days. Reheat on the stove or in the microwave until piping hot again. The pasta will bloat as it rests but it's still absolutely fine. You can also freeze it and thaw in the fridge before reheating.
e) Inspiration – I have tried a couple of different flavours of the original Hamburger Helper, which I ordered online for testing purposes. I couldn't upload my version without trying the real-deal! I'd say this recipe is 'inspired' by Hamburger helper, just a bit more 'jazzed up'. A lot of components of this recipe were adapted from the New York Times version.
f) Calories – Whole recipe divided by 4.
Nutrition
Calories:
885
kcal
|
Carbohydrates:
62.75
g
|
Protein:
57.59
g
|
Fat:
44.89
g
|
Saturated Fat:
15.666
g
|
Polyunsaturated Fat:
1.808
g
|
Monounsaturated Fat:
8.277
g
|
Trans Fat:
1.109
g
|
Cholesterol:
149
mg
|
Sodium:
1368
mg
|
Potassium:
1240
mg
|
Fiber:
3.8
g
|
Sugar:
12.73
g
|
Vitamin A:
1411
IU
|
Vitamin C:
11.7
mg
|
Calcium:
585
mg
|
Iron:
4.93
mg
---
The post Homemade Hamburger Helper Recipe appeared first on Don't Go Bacon My Heart.