Chicken Tetrazzini
This chicken tetrazzini is creamy, cheesy, hearty and so easy to make!
If you love all things chicken and mushroom, I'm confident you'll fall deep in love with this dish. Follow me…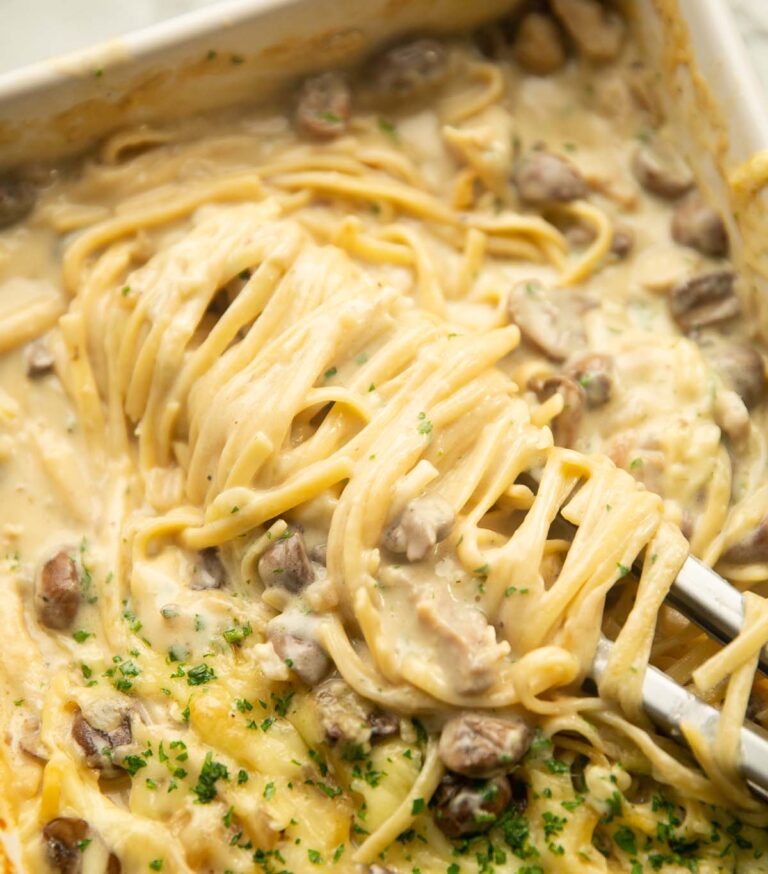 Chicken and Mushroom Tetrazzini
Tetrazzini is often made with chicken or turkey, usually with cream of mushroom and/or cream of chicken soup as the base. Here we're going for chicken with a homemade creamy sauce. No soup needed!
Chicken Thighs
Whilst you could use breast or rotisserie chicken, I highly recommend using boneless skinless chicken thighs for a few different reasons:
Fat –  thighs are much fattier than breast. This not only adds more flavour, but the excess fat can be used to fry the mushrooms.
Robust – thighs are much less likely to overcook from the double cooking (frying then baking).
Flavour – because thighs are fairly robust, you can give them a good sear on each side to build up some nice flavour. This will also leave 'fond' in the pan (i.e. extra flavour) which can be incorporated into the dish.
What kind of mushrooms should I use?
I use baby chestnut mushrooms, but in reality you can use any mushroom you fancy. The main thing is properly frying them to develop flavour. The mushrooms will initially soak in all the oil like a sponge, then leak out moisture, then the moisture will begin to evaporate. Only after the evaporation can the mushrooms properly start to fry and turn golden (i.e. build up flavour).
Alongside the chicken and mushrooms we're going to add some onion and garlic for a boost of flavour.
Process shots: fry chicken (photos 1&2), fry mushrooms (photo 3), fry onion and garlic (photo 4).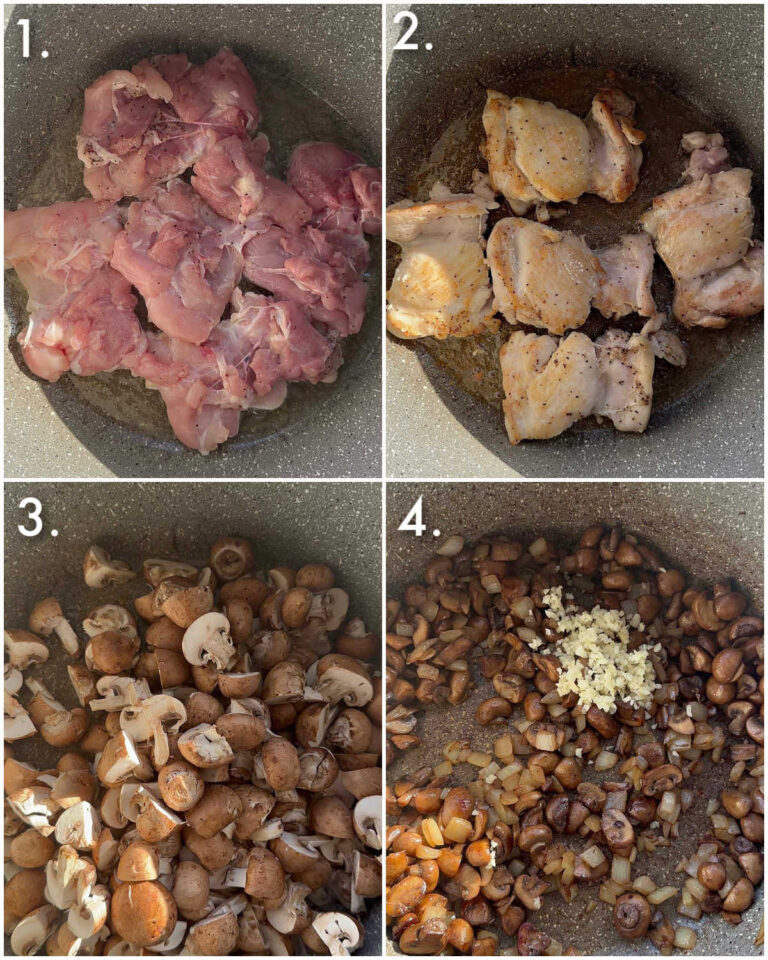 Making Tetrazzini
Like I said, no soup needed here. Nothing against it! Canned soup just varies a lot from brand to brand, and I'm too much of a food nerd not to make my own sauce 😄. Here's what you'll need:
Flour & Butter – to create a roux to thicken the sauce.
Milk & Chicken Stock – creates the sauce.
Cream – just for added richness!
Cheese – I love using parmesan and gouda.
Once the sauce has thickened, slice the chicken and stir it through with the pasta. From there, pour it all into a large baking dish, top with more cheese and bake.
Process shots: melt butter then stir in flour (photo 1), stir in liquids then stir in cheese (photo 2), slice and stir in chicken (photo 3), toss in pasta (photo 4), pour into baking dish (photo 5), top with cheese and bake (photo 6).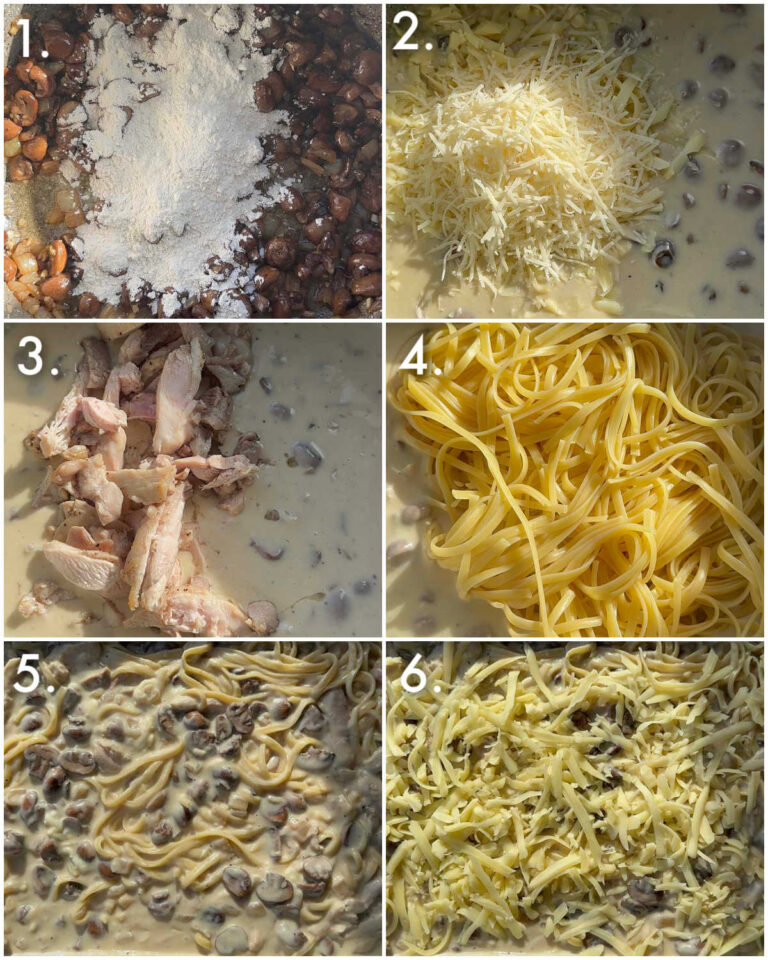 Chicken Tetrazzini FAQ
What else can I use instead of Gouda?
Gouda is actually a fairly accessable cheese found in most supermarkets. If you can't find it I have used Emmental in the past, which is another relatively mild and creamy cheese that melts well.
What kind of pasta should I use?
I use Linguine, but you could use spaghetti. Long-cut pasta is traditional so go for that!
Can I prepare this ahead of time?
This is best made fresh, but certainly don't waste leftovers. Just allow to completely cool and tightly store in the fridge for up to a few days. Reheat until piping hot again.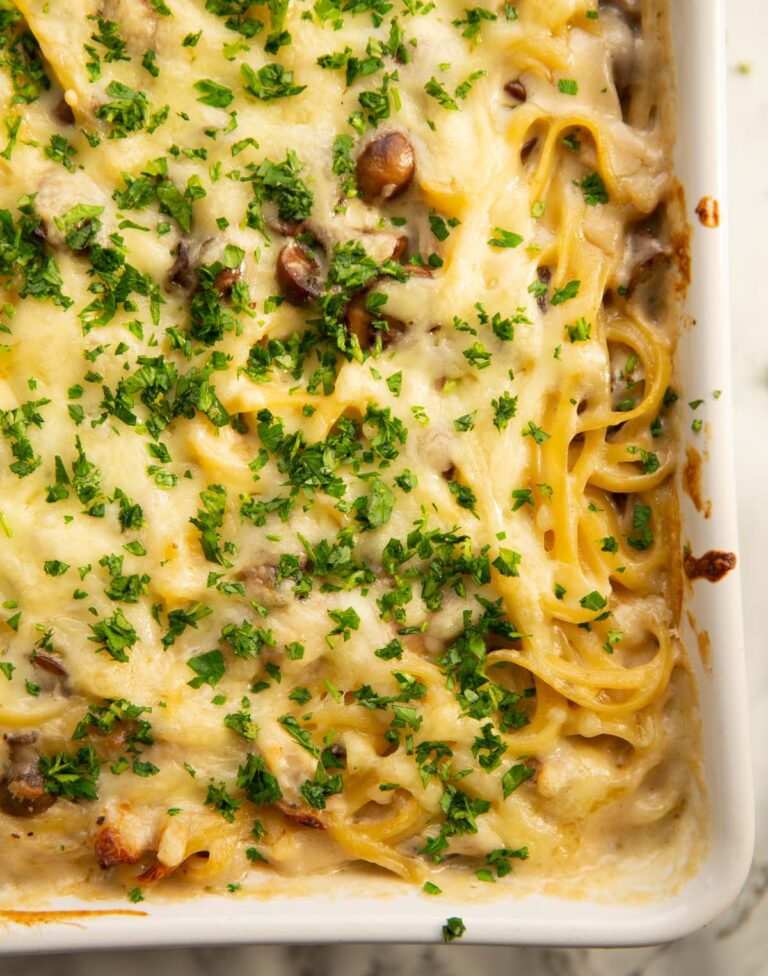 Serving Tetrazzini
The tetrazzini is done once it's golden and bubbly. I don't tend to bake it too long otherwise you risk the sauce drying out.
Once out the oven give it a good helping of fresh parsley for a final pop of colour and flavour.
Alrighty, let's tuck into the full recipe for this chicken tetrazzini shall we?!
How to make Chicken Tetrazzini (Full Recipe & Video)
Chicken Tetrazzini
This chicken tetrazzini is creamy, cheesy, hearty and so easy to make!
Equipment
Sharp Knife & Chopping Board

Large Deep Pot & Wooden Spoon

Large Pot, Tongs & Colander

(for pasta)

Large Baking Dish

Cheese Grater
Ingredients
600g / 1.3lb

boneless skinless

Chicken Thighs (see notes)

1

tsp

Salt, or as needed

1/2

tsp

Black Pepper, or as needed

2

tbsp

Olive Oil

400g / 14oz

Baby Chestnut or Button Mushrooms, halved or quartered

1

medium

White Onion, finely diced

4

cloves of

Garlic, finely diced

400g / 14oz

Linguine, or other long-cut pasta

60g / 2oz

Butter

60g / 2oz

Plain Flour

480ml / 2 cups

Milk, at room temp

480ml / 2 cups

Chicken Stock

120ml / 1/2 cup

Double/Heavy Cream, at room temp

200g / 2 cups

Gouda Cheese, grated (see notes)

40g / 1/2 cup

freshly grated

Parmesan

2

tbsp finely diced

Fresh Parsley
Instructions
Pre-heat the oven to 180C/350F.

Season the chicken all over with 1/2 tsp salt and 1/4 tsp black pepper. Heat the olive oil in a large deep pot over high heat and add the chicken. Fry each side for 2-3 mins until golden, then remove and lower the heat slightly to medium-high, leaving all the excess fat behind. The chicken doesn't need to be completely cooked through at this point.

Add the mushrooms and fry until they begin to soften. They'll first soak in all the oil, then begin releasing moisture, which will then start evaporating. As it starts to evaporate add in the onion and fry until both the onion and mushrooms are completely soft and golden. Add the garlic and fry for a minute longer.

At this point add the pasta to salted boiling water, cook until al dente then drain.

Lower heat to medium and melt the butter in with the mushrooms, scraping off any flavour from the pan as you go. Stir in the flour to create a roux, then gradually pour in the milk, stock then cream, stirring as you go to avoid lumps forming. Stir in 1/2 tsp salt and 1/4 tsp pepper (or to taste – season well to bring out the best in the sauce) alongside the resting juices from the chicken, then bring to a gentle simmer. Allow to bubble away for 2 mins to thicken (it should coat the back of a spoon). Shred/slice the chicken during this time.

Turn off the heat and stir through the chicken, then stir through the parmesan and half of the Gouda. Toss in the spaghetti until well-coated in the sauce, then pour it all into a large baking dish. Smooth the top with your wooden spoon then sprinkle over the rest of the cheese.

Bake in the oven for 15 mins until golden and bubbly, then serve with parsley and enjoy!
Notes
a) Chicken – Definitely use thighs for this recipe. They're much more robust than chicken breast, so don't overcook in the oven. They'll be mostly cooked after frying, and will continue cooking slightly as they rest, then will completely cook through in the oven.
b) Cheese – The parmesan adds a nice boost of flavour to the creamy sauce. The Gouda also adds flavour, but it is much more mellow, so blends through the creamy sauce so deliciously. You'll find it as a block in most supermarkets. I have subbed with Emmental cheese before, which is also relatively mild and creamy.
c) Pasta – Important to make sure this pasta is al dente and not too soft when you boil it. It softens a little more in the oven.
d) Seasoning – Make sure the sauce is properly seasoned with salt and pepper to bring out the best in this mellow, creamy sauce.
e) Calories – Whole recipe divided by 6.
Nutrition
Calories:
786
kcal
|
Carbohydrates:
71.29
g
|
Protein:
41.12
g
|
Fat:
38.34
g
|
Saturated Fat:
19.562
g
|
Polyunsaturated Fat:
3.12
g
|
Monounsaturated Fat:
12.86
g
|
Trans Fat:
0.476
g
|
Cholesterol:
191
mg
|
Sodium:
991
mg
|
Potassium:
883
mg
|
Fiber:
8.7
g
|
Sugar:
7.51
g
|
Vitamin A:
1191
IU
|
Vitamin C:
5.3
mg
|
Calcium:
425
mg
|
Iron:
2.55
mg
---
For more similar recipes check out these beauties:
Chicken and Mushroom Recipes
---
The post Chicken Tetrazzini appeared first on Don't Go Bacon My Heart.