Steak and Potato Pie
This steak and potato pie is one of the most comforting pies you'll ever make!
Typically a steak and potato pie would use beef and potatoes as the filling. However, today we're going to have a bit of fun and place the potatoes on top like a potato gratin. Yes, heaven truly is a place on earth. Follow me…
Steak Pie
Don't worry, when I say 'steak' I don't mean you've got to use expensive cuts of steak for this pie. It's just a more general term for a chunky beef pie.
What kind of beef should I use?
Your beef selection is important. What you want is beef that's suitable for braising/slow cooking. A good sign of this is the beef having marbled fat. This will ensure the beef stays tender over the long cooking time. Don't use lean beef, it'll come out dry. Full disclosure, the beef I filmed with was not optimal in terms of the meat-to-fat ratio (it's all had access to at the time!).
Preparing the beef
Preparing the beef happens in two stages:
Slicing – you want quite large chunks. Large chunks will be more robust throughout the cooking process (they'll break down as they cook).
Seasoning – whilst the beef will soak in some flavour from the gravy, it's always a good idea to season the meat directly before cooking.
Frying the beef
I like to sear the beef before it simmers, just to develop a bit more flavour. You'll want to work in batches and over a very high heat. You don't need to cook the beef at this point, just brown the outside. Doing this will also create 'fond' in the base of the pot, which in turn adds more flavour to the gravy.
Process shots: slice and season beef (photos 1&2), fry in batches (photos 3&4).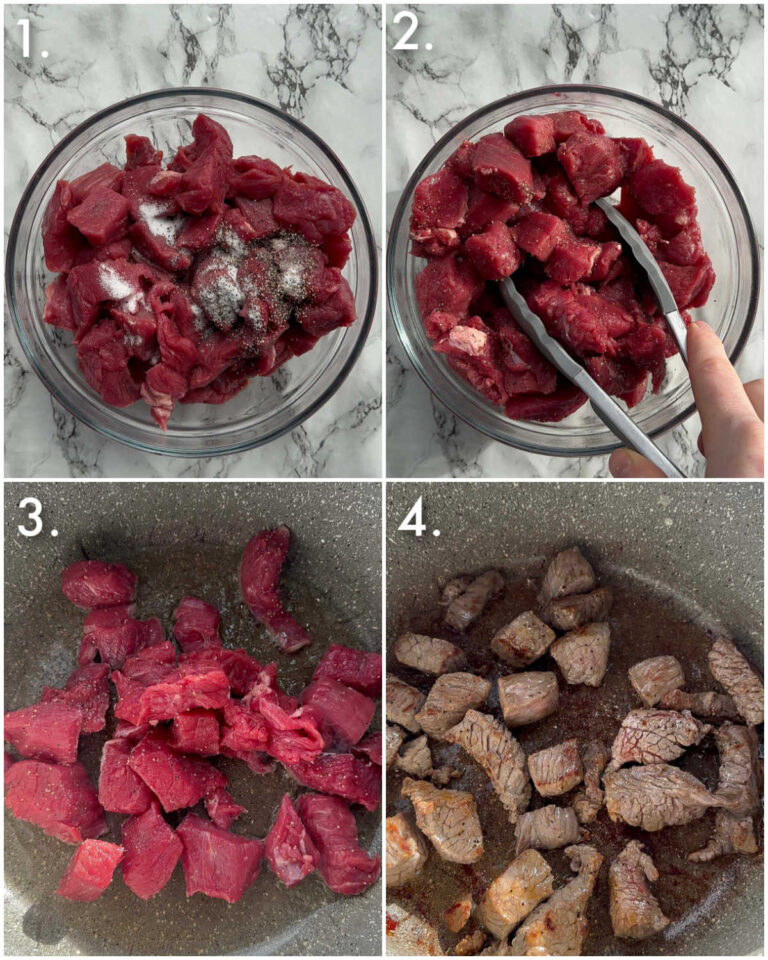 Steak Pie Filling
The aim of the game with the filling is to create a gravy with a thick texture and a deep, rich flavour. Besides the gravy ingredients, you'll want to add some onion, carrot and garlic.
Steak Pie Gravy Ingredients
Oil & Flour – create a roux to thicken the gravy.
Red Wine – adds a gorgeous depth of flavour and pairs perfectly with the beef.
Stock – creates the base of the gravy.
Oxo Cube,  Worcestershire Sauce & Tomato Puree – add more depth of flavour.
Bay Leaves – the perfect herb for braising beef!
Simmering the sauce
Before you make and bake the pie, you'll need to simmer the beef with the gravy. This is crucial for a few different reasons:
Tenderise Beef – the beef needs to tenderise and soften before adding it to the pie.
Flavour – simmering will allow all the flavours to marry together.
Reduce – simmering will reduce and thicken the sauce.
We're going to initially simmer with the lid on to tenderise the beef and marry the flavours, then we'll remove the lid to reduce and thicken the gravy. The end result might look a little more saucy than you're used to for a beef pie, but it will reduce more in the oven as the potatoes soak in the gravy.
Process shots: fry onion, carrot, garlic (photo 1), stir in flour (photo 2), stir in wine (photo 3), stir in stock, Worcestershire sauce, Oxo, tomato puree and bay leaves (photo 4), add beef (photo 5), simmer (photo 6).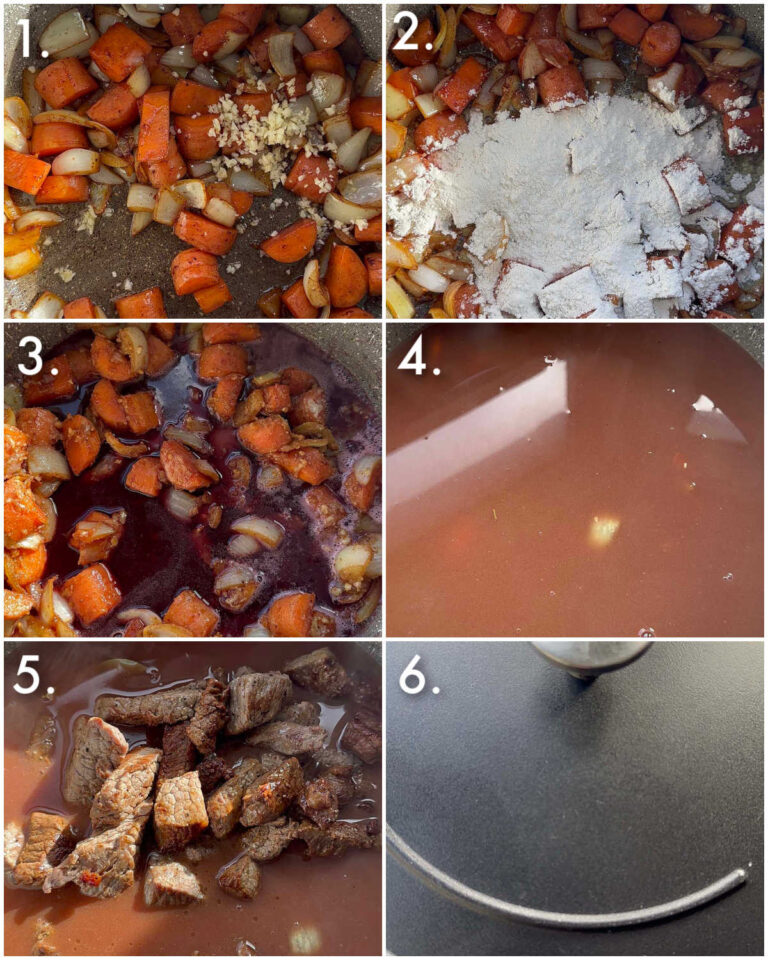 Steak Pie and Potato Pie
Once the filling is done, you must allow it to cool in the baking dish. This will allow a skin to form over the top, which acts as a protective layer that prevents the potatoes from sinking into the filling.
Potato gratin pie
You could add mashed potatoes to this, you could also add pastry, but we're going to layer on some sliced potatoes. Technically this makes this more of a hotpot, but we're too far deep into calling it a pie now 😅. In between 3 layers of thinly sliced potatoes, we're going to brush on some rosemary garlic butter for added flavour.
Baking the pie
It's important to initially bake the pie with foil. This will allow the potatoes to cook without the gravy underneath reducing. You can then remove and continue baking until the potatoes are knife tender and browned on top.
Process shots: cool filling in baking dish (photo 1), layer potatoes with garlic rosemary butter (photo 2), cover and bake (photo 3), uncover and bake (photo 4).
Steak and Potato Pie FAQ
Do I have to add wine?
I do highly recommend adding it if you can (most if not all of the alcohol will burn off) but if you can't then just sub with more stock.
What kind of potatoes should I use?
You'll want to use floury/baking potatoes like Maris Pipers/Russets. Waxy potatoes won't soak in the gravy as efficiently.
Can I prep this ahead of time?
Yes, just make the filling and cool in the dish, then tightly cover in the fridge (up to a couple of days), then top with potatoes and bake.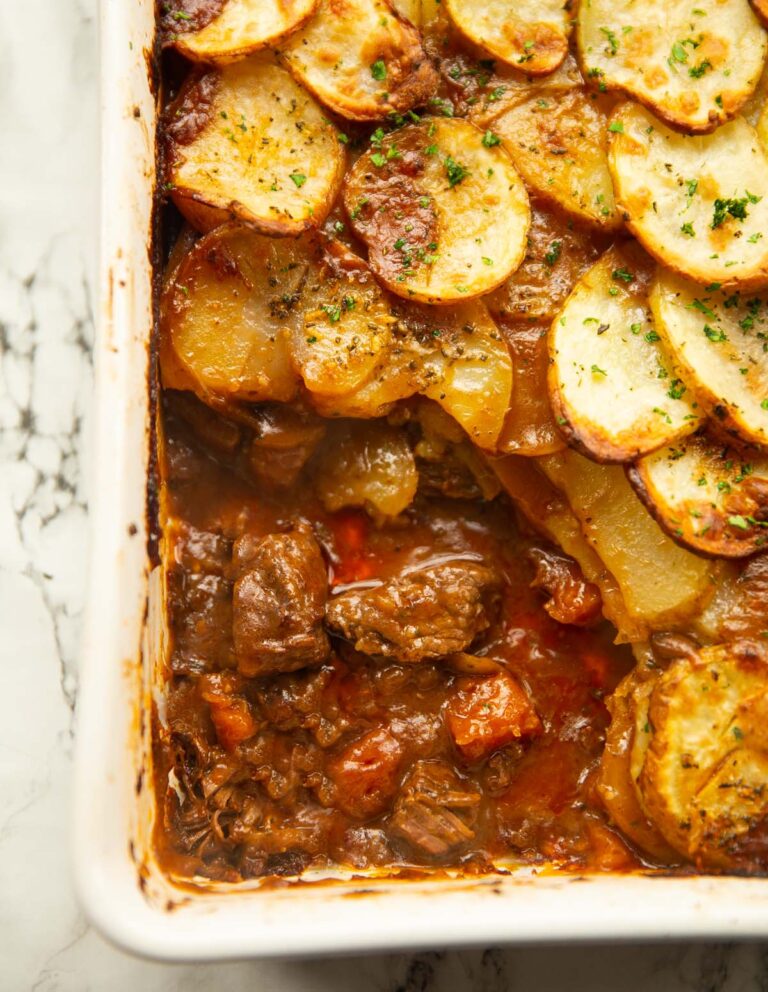 Serving Steak and Potato Pie
I don't tend to serve this with anything as it's so rich and hearty, but you could add a Side if you wanted!
Alrighty, let's tuck into the full recipe for this steak and potato pie shall we?!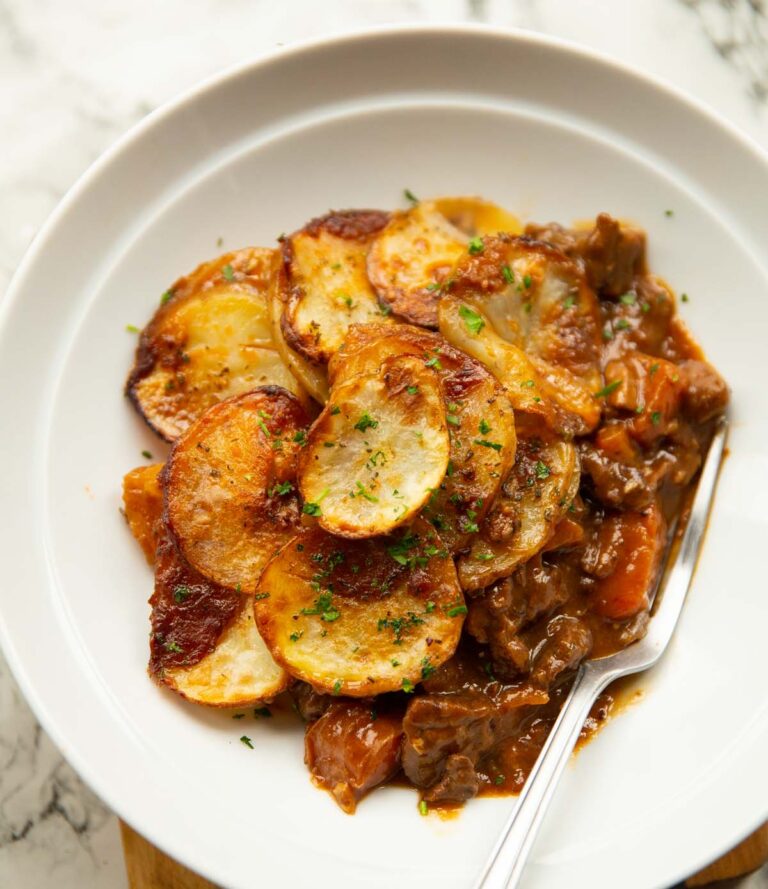 How to make

Steak and Potato Pie

(Full Recipe & Video)
Steak and Potato Pie
This steak and potato pie is one of the most comforting pies you'll ever make!
Equipment
Sharp Knife & Chopping Board

Large Deep Pot with Lid & Tongs

Wooden Spoon

Medium Sized Mixing Bowl

(to store cooked beef)

Large Baking Dish & Foil

(mine is 12×9″ / 30x22cm)

Fine Cheese Grater

(for garlic)

Small Mixing Bowl & Brush

(for butter)
Ingredients
Filling
1kg / 2lb

Steak/Beef suitable for slow cooking (see notes)

1

tsp

Salt

1/2

tsp

Black Pepper

3

tbsp

Olive Oil

250g / 9oz

Carrots, diced into chunks

1

large

White Onion, roughly diced

2

large cloves of

Garlic, finely diced

40g / 1/4 cup

Plain Flour

180ml / 3/4 cup

Dry Red Wine (see notes)

840ml / 3.5 cups

Beef Stock

1

tbsp

Worcestershire Sauce

1

tbsp

Tomato Paste

1x

Beef Oxo Cube, crumbled (sub 1 heaped tsp Bouillon powder if you don't have cubes)

2

Bay Leaves (dry or fresh)
Topping
1kg / 2lb

Baking Potatoes,

3 tbsp / 45g

Unsalted Butter

1

heaped tsp finely diced

Fresh Rosemary

1

clove of

Garlic, finely grated

1/2

tsp

Salt

1/8

tsp

Black Pepper
Instructions
Dice the beef into fairly large bite-sized pieces and season with salt and pepper.

Heat 1 tbsp oil in a large deep heavy-based pot over high heat. Once hot, spread out half of the beef and fry until brown all over (don't try and cook it right through). Remove and repeat with the second batch. Don't overcrowd the pot or the beef will steam and stew. Add more oil if needed.

Lower heat to medium-high and add the remaining 2 tbsp oil. Fry the carrot and onion until they soften and begin to very lightly brown, then fry the garlic for a further 30 seconds or so.

Lower the heat to medium and stir in the flour. Pour in the wine and give it a really good stir until it thickens to a smooth paste. Gradually add in the stock, stirring as you go to avoid lumps forming. Stir in the Worcestershire sauce, tomato paste, Oxo cube, bay leaves and cooked beef (along with all of the resting juices).

Bring to a simmer, then pop on the lid and reduce the heat to low. Allow to gentle bubble away for 1 hour and 30 mins, stirring occasionally. Remove the lid and simmer for a further 30 mins, or until the beef is tender and the sauce has thickened to a gravy-style consistency (see video). Keep in mind it'll thicken more in the next step. Adjust seasoning if desired.

Pour the filling into a large baking dish and allow to cool for at least 30 mins, until a skin forms across the top. Meanwhile, melt the butter and combine in a small mixing bowl with rosemary, garlic, salt and pepper. Very thinly slice the potatoes (approx 3-4mm or 1/8″) and pre-heat the oven to 180C/350F.

Layer 1/3 of the potatoes across the top. Brush with 1/3 of the butter, then repeat two more times, ensuring you layer the potatoes in a way that reduces as many gaps as possible.

Tightly cover in foil then bake in the oven for 40mins. Remove the foil, increase the oven temp to 200C/400F and bake for a further 20-25mins, or until the potatoes are knife tender. You can flick on the grill to brown them further if you'd like.

Allow to cool for a few mins, then serve up and enjoy!
Notes
a) Beef – I recommend something like chuck steak, but most types of casserole/braising/slow-cooking cuts of beef with marbled fat will work. Don't use lean cuts of steak/beef, it'll dry out! The marbled fat is essential. Also, I don't recommend buying the packs of pre-cut small pieces. Larger bite-sized pieces will hold up better over the longer cooking time.
b) Wine – This gives the gravy a gorgeous depth of flavour, so I highly recommend using it. Nothing fancy, just some dark/dry like a merlot or Cabernet Sauvignon.
c) Consistency – After the simmering time, the gravy should be fairly thick, but slightly saucier than you'd expect for a pie filling. This is because the potatoes will soak in the sauce as they bake, so you need a bit extra or the filling will dry out. If you find yourself with hardly any gravy and the beef is still very firm, just add more water and gently simmer until it loosens up. If on the other hand, there is too much gravy by the time the beef is tender, just continue gently simmering until it thickens (a longer simmer will only further tenderize the beef, so don't worry). In all cases don't aggressively simmer the beef or it'll overcook.
d) Seasoning – I don't add extra to the sauce as I find the stock and seasoning from the beef adds enough salt. On the flip side, if you're sensitive to the salt I recommend using low-salt stock and adjusting at the end if needed.
e) Potatoes – Maris Pipers/Russets works great. Don't use waxy varieties of potatoes, you want the floury texture of a baking potato so they soak in the sauce with ease.
f) Prep Ahead – I usually tightly cover the dish and place it in the fridge after I've added the filling to the baking dish (let it cool first). Then the next day I'll stack the potatoes on top and bake.
g) Calories – whole pie divided by 5.
Nutrition
Calories:
637
kcal
|
Carbohydrates:
52.23
g
|
Protein:
49.98
g
|
Fat:
23.47
g
|
Saturated Fat:
9.115
g
|
Polyunsaturated Fat:
1.884
g
|
Monounsaturated Fat:
12.061
g
|
Trans Fat:
0.709
g
|
Cholesterol:
150
mg
|
Sodium:
1118
mg
|
Potassium:
1895
mg
|
Fiber:
6.8
g
|
Sugar:
6.3
g
|
Vitamin A:
8643
IU
|
Vitamin C:
46.3
mg
|
Calcium:
93
mg
|
Iron:
7.13
mg
---
For more similar recipes check out my Steak Bakes and Chilli Hotpot!
Delicious Pie Recipes
---
The post Steak and Potato Pie appeared first on Don't Go Bacon My Heart.