Mince and Tatties Recipe
Here I'll show the most delicious way to whip up the classic Scottish Mince and Tatties!
For those wondering, possibly/probably from outside of Scotland and the UK, 'Mince' = ground meat and 'Tatties' = potatoes. In this context, the ground meat is beef and the tatties are mashed. Now, for many others wondering what on earth an Englishman like myself knows about this Scottish classic, I do have some credentials, I promise 🤣 Half of my family is Scottish and I've lived here for a fair few years now, so I've had my fair share of mince & tatties. Anywho, I know everyone makes them differently, but today I'm sharing my version 😁 Follow me…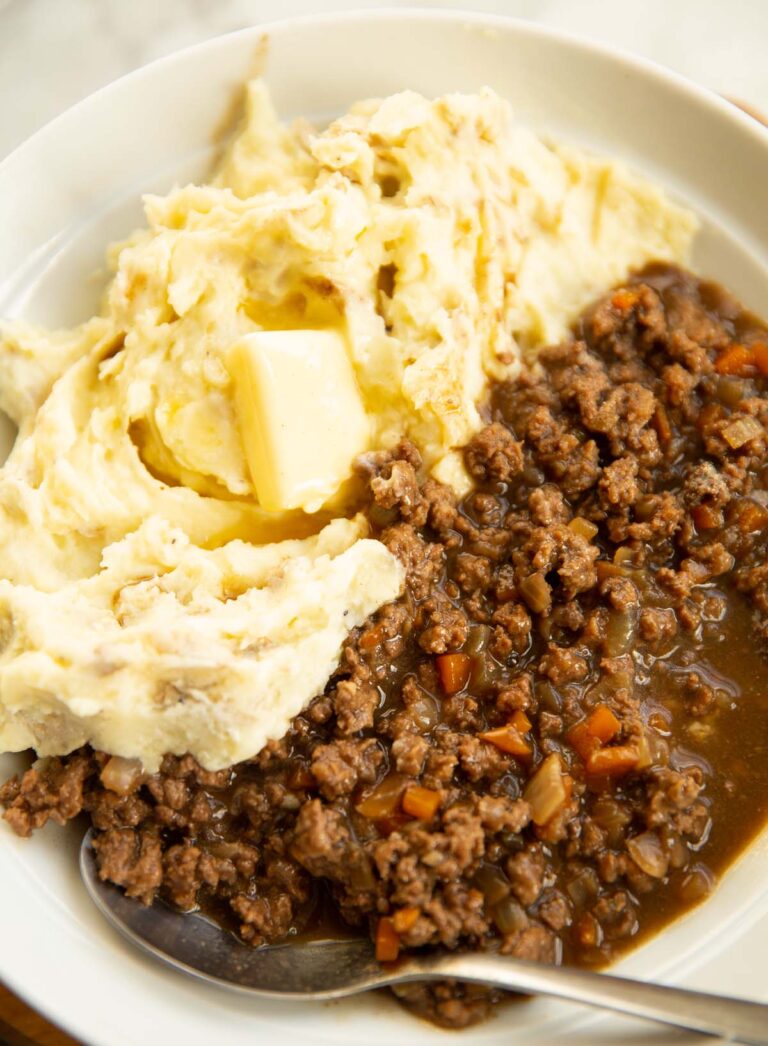 Scottish Mince
The mince part of the recipe is really easy and REALLY yummy. It's similar to the base of a Cottage Pie, just with a few tweaks. Here's what I use:
Carrot, onion & garlic – create a flavour base for the gravy.
Minced Beef – I like using 10-12% fat mince. That way you get some of the fatty flavour, but not so much it turns the gravy oily.
Beef Stock – creates the base of the gravy.
Worcestershire Sauce – deepens the flavour of the gravy.
Red Wine – optional, but pairs wonderfully with the beef.
Beef Oxo Cube – helps create that classic 'beefy' flavour.
Gravy Granules – add flavour and thicken the sauce.
That's it! Hopefully some of those ingredients should be familiar faces in your cupboards. You don't need any added herbs – they distract from the rich, beefy flavour.
Simmering the mince
This is the important part. I typically simmer the mince on very low for around 45 minutes. I do this for a few different reasons:
Beef – simmering will help tenderise the beef.
Flavour – it allows time for the flavours to all marry together.
Thicken – essential to reduce and thicken the gravy.
Process shots: fry onion and carrot (photo 1), fry garlic (photo 2), add beef (photo 3), fry and simmer wine (photo 4), add remaining ingredients (photo 5), simmer (photo 6).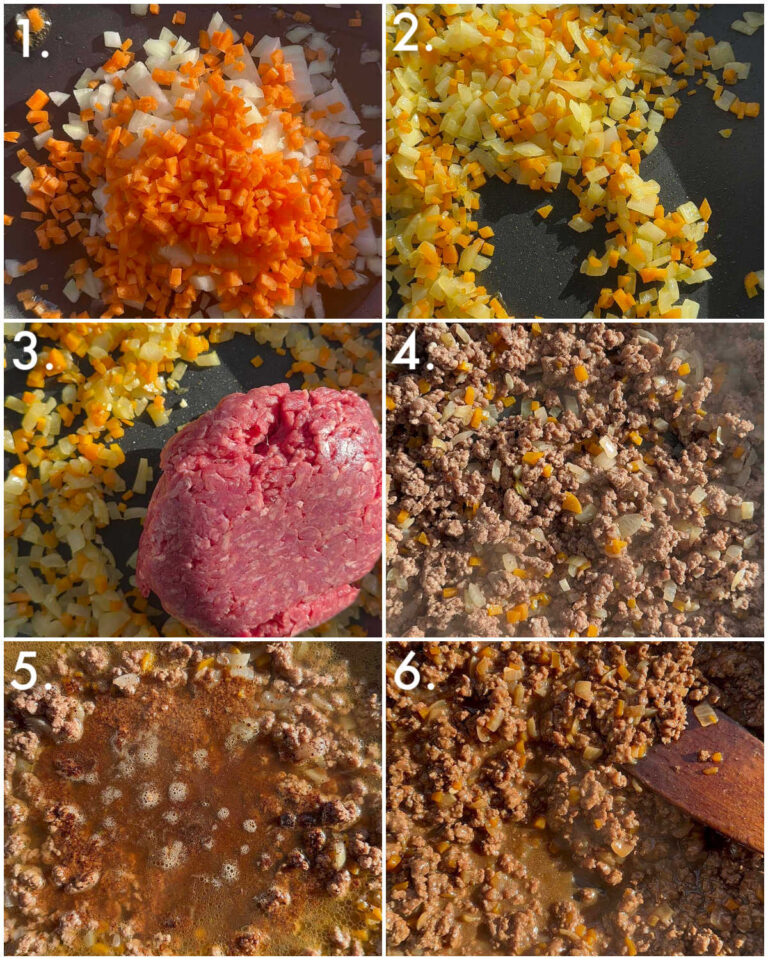 Mashed Tatties
I know many families like boiled potatoes with their mince, but we like mashed potatoes. We also like them pretty rustic – hence why I'm using my Rustic Mashed Potatoes Recipe. I like to use baby potatoes and keep the skin on. Baby potatoes are perfect because you don't even need to slice them if they're nice and small. Sure, the mash comes out a little lumpy and bumpy, but it's ridiculously delicious.
Other ingredients in the mash are cream, butter and generous helpings of salt and pepper.
Could I use regular potatoes?
Yes! Regular baking potatoes will give you a fluffier mash.
Do I have to leave the skin on?
You can definitely peel the potatoes if you'd prefer! This will of course leave you with a smoother mash.
Process shots: boil potatoes (photos 1&2), heat butter and cream (photos 3&4), add drained potatoes (photo 5), mash and season (photo 6).
Serving Mince and Tatties
I love to serve up with a small knob of butter on the mash and a couple of pinches of white pepper on the mince – both completely optional. My hubby also likes to go in with some brown sauce, but I'll leave that to your discretion 😂
If you're serving for 4 I recommend a Side (Green Beans, Broccoli or Peas all work great). Also, consider a slice of buttered bread to mop up the leftover gravy!
Alrighty, let's tuck into the full recipe for these mince and tatties shall we?!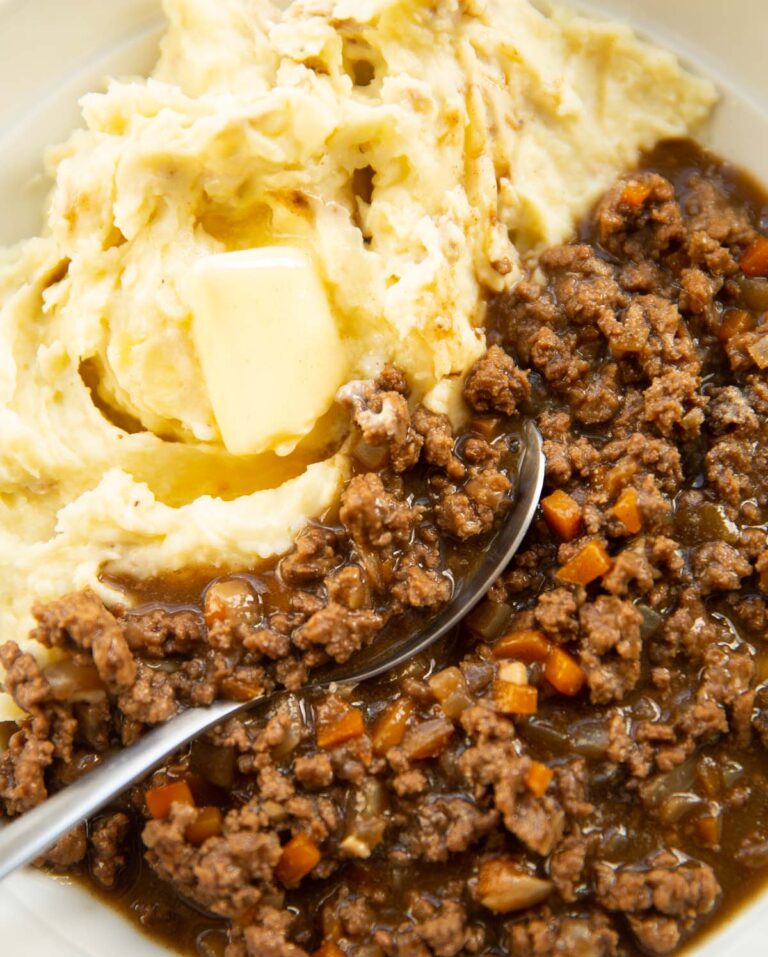 How to make Mince and Tatties

 (Full Recipe & Video)
Mince and Tatties Recipe
Here I'll show the most delicious way to whip up the classic Scottish Mince and Tatties!
Equipment
Sharp Knife & Chopping Board

Large Pan & Wooden Spoon

(for mince)

Large Pot, Colander and Potato Masher

(for tatties)

Serving Spoon
Ingredients
Mince
1

tbsp

Olive Oil

1

large

Carrot, finely diced

1

large

White Onion, finely diced

1

large clove of

Garlic, finely diced

500g / 1lb

Minced/Ground Beef (10-12% fat)

60ml / 1/4 cup

Dry Red Wine (see notes)

480ml / 2 cups

Beef Stock (see notes)

1

tbsp

Worcestershire Sauce

2

tbsp

Bisto Gravy Granules (see notes)

1x

Beef Oxo Cube, crumbled
White Pepper, to serve (optional)
Salt, to taste
Tatties
1kg / 2lb

Small Baby Potatoes, any larger ones halved

2 1/2

tsp

Salt, or to taste

1/4

tsp

Black Pepper, or to taste

4 tbsp / 60g

Butter, diced into cubes (leave at room temp)

120ml / 1/2 cup

Double/Heavy Cream, at room temp
Instructions
Add 1 tbsp oil to a large pan over medium heat. Add the onion and carrot and fry until it all softens and begins to colour, then add the garlic and fry for a minute longer.

Add the beef and fry until browned all over, breaking it up with your wooden spoon as you go. Stir in the wine and allow it to simmer for a few mins, then add the beef stock, Oxo cube, Worcestershire sauce and gravy granules. Give it all a good stir and bring to a simmer. Reduce the heat to low and let it all gently bubble away for 40-45mins until the sauce thickens to a thick, rich gravy. Don't rush this process – low and slow is crucial to tenderise the beef and marry the flavours. Check for seasoning and adjust if needed.

Meanwhile, add the potatoes to a large pot and fill with cold water until they're comfortably covered. Stir in 2 tsp salt and bring to a boil. Cook the potatoes until the potatoes are soft right through the centre then drain in a colander (timings will depend on size of potatoes). A fork should very easily be able to pierce through the potatoes. Immediately add the butter and cream to the now empty pot and stir until the butter melts (the residual heat will allow you to do this).

Add the drained potatoes and mash to your desired texture. Generously season to taste (I do 1/2 tsp salt and 1/4 tsp pepper) and mash a little more until combined.

Serve up the tatties with the mince next to it and a couple of pinches of white pepper if desired!
Notes
a) Wine – This is optional, but it does add a nice depth of flavour and pairs beautifully with the beef. Don't splash out on anything expensive! Just what you've got on hand.
b) Stock – I use 1 Knorr stock cube (1 cube = 450ml water). You could also use premade/homemade stocks. I don't recommend using Oxo cubes because we've got an extra one sprinkled in (you'd need 3 cubes to make 500ml stock!).
c) Oxo cube – Alongside the gravy granules, this is a key ingredient. It deepens the flavour and makes the mince more 'beefy'. This also adds more salt to the mince, so I typically don't find you need much more extra. Just go easy and work to taste.
d) Gravy granules – This acts as a thickener and also adds flavour. Use a reputable brand like Bisto. If you can't find gravy granules you could sub with flour and stir in to the beef after adding the wine, then gradually stir in the stock to avoid lumps. You will unfortunately just lose out on the boost of flavour from the gravy granules.
e) Mash – I like my mashed potatoes rustic style, so I leave the skins on. I like using baby potatoes because they're so easy to prep – most of the time if they're small I won't even chop them! Just make sure they're nice and soft once boiled otherwise you'll struggle to mash them. You could of course use floury/baking potatoes and you'll get a smoother/fluffier mash.
f) Storage – Allow the mince to cool then tightly store in the fridge for 2-3days or freezer for 1 month. Reheat in the microwave until piping hot (that in fridge first if frozen). I wouldn't make the mash ahead of time, but you can tightly store leftovers in the fridge for 2-3days, then reheat in short blasts in the microwave, stirring every time you stop, until piping hot again.
g) Calories – Whole recipe divided by 3 (fairly big portions).
Nutrition
Calories:
830
kcal
|
Carbohydrates:
62.17
g
|
Protein:
38.24
g
|
Fat:
46.71
g
|
Saturated Fat:
23.656
g
|
Polyunsaturated Fat:
2.128
g
|
Monounsaturated Fat:
16.761
g
|
Trans Fat:
1.371
g
|
Cholesterol:
183
mg
|
Sodium:
965
mg
|
Potassium:
1991
mg
|
Fiber:
8.1
g
|
Sugar:
7.08
g
|
Vitamin A:
4593
IU
|
Vitamin C:
64.9
mg
|
Calcium:
110
mg
|
Iron:
6.37
mg
---
For more similar recipes check out these beauties:
---
The post Mince and Tatties Recipe appeared first on Don't Go Bacon My Heart.