Beef and Onion Bread Roll Pies
These bread roll pies are the new handy way to enjoy a delicious beef and onion pie!
Okay, I've definitely not reinvented the wheel here, but I'd like to think I've come up with something rather fun and delicious! Follow me…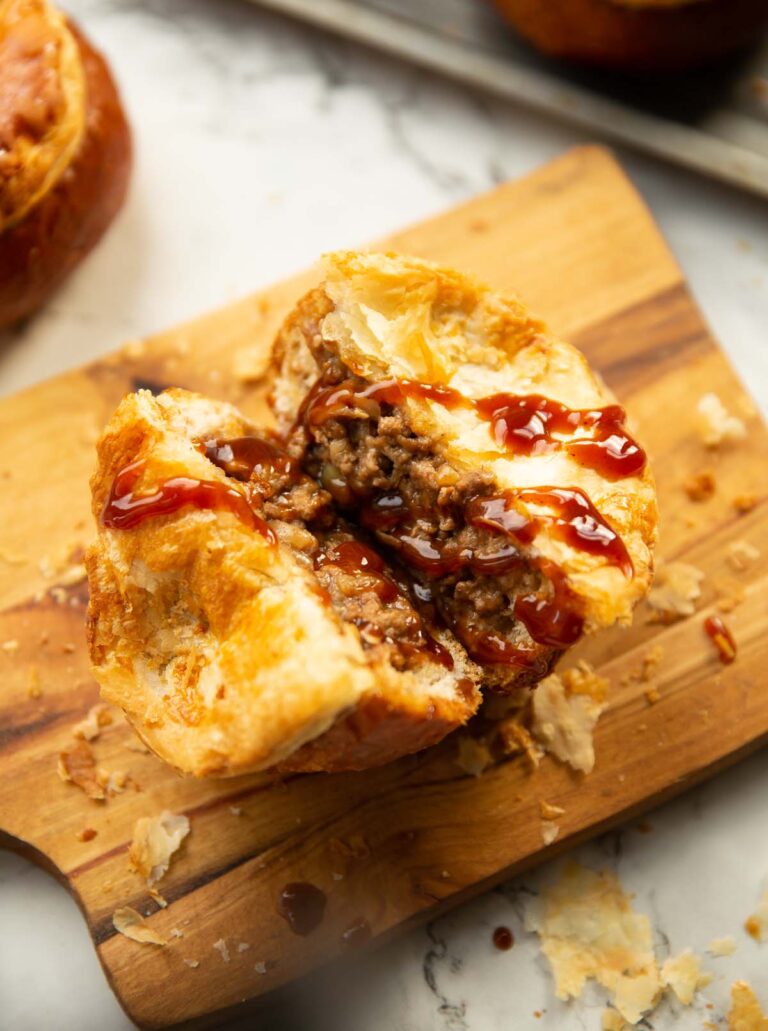 Beef and Onion Pie Filling
We'll talk about the bread part in just a second, but first, let's discuss the filling.
These pies are an easy version of an individual pie and we want the filling to reflect that. As such, we'll be using minced beef. No hours of simmering needed, just good old-fashioned beef mince simmered in a gravy.
Gravy Pie Filling
We'll create the sauce (aka the gravy) using the fat from the beef combined with flour. We'll then add in the stock to create the gravy and spruce it up with some Worcestershire sauce, ketchup and Beef Oxo cube, alongside some onion powder to really highlight the onion aspect of the filling.
We want the filling fairly thick, so it's important to simmer the gravy and reduce it down until it's no longer watery. Otherwise, it'll turn the bread soggy.
Process shots: fry onion (photo 1), fry garlic (photo 2), fry beef (photo 3), stir in flour (photo 4), stir in beef stock (photo 5), stir in extra goodies and simmer (photo 6).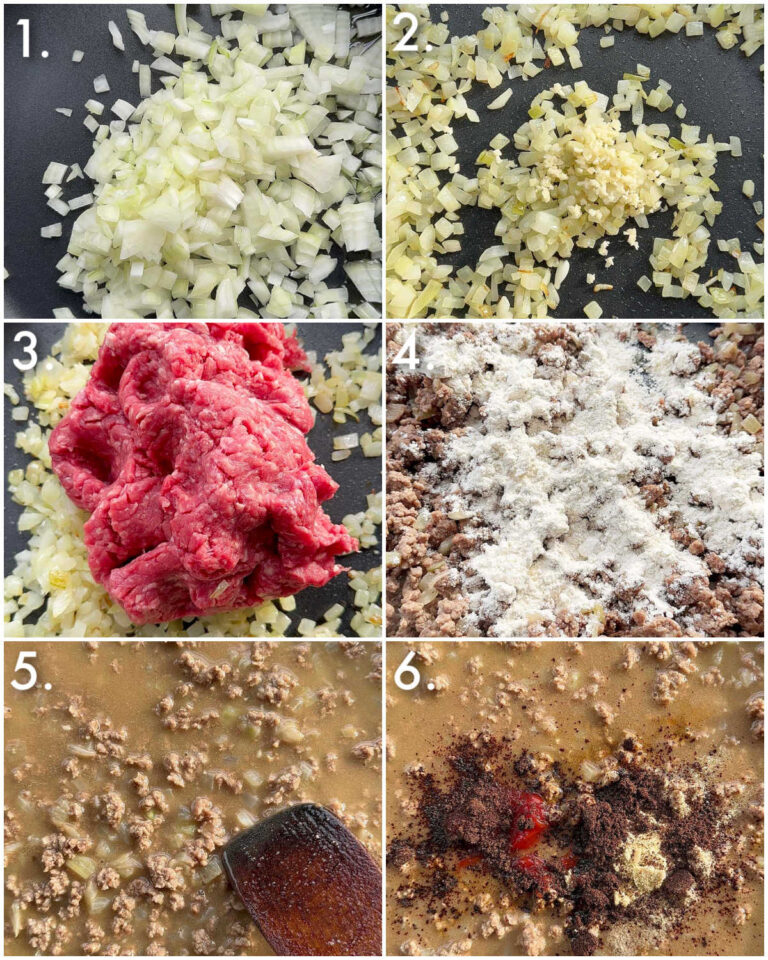 Bread Roll Pies
Instead of using shortcrust pastry on the bottom, where you've typically got to blind bake it, here we're using a bread roll. Stick with me here…
What kind of bread should I use?
You'll want to use large white crusty rolls. It's really important that they're firm/crusty (they should almost sound hollow to tap). This will give the pies structure and keep them nice and crispy as they bake.
Just slice off the top and press in the filling to create a firm wall. This will prevent the filling from leaking out and prevent the bread from going soggy.
After you've added the filling, just plonk on some puff pastry and you're practically there. My initial concern was that there might be a clash of texture with the pastry and bread, but the bread crisps up really nicely and works perfectly with the pastry. The lid is light and crisp and the bread is slightly firmer but still nice and crisp.
Process shots: slice top off of roll (photo 1), press in the centre (photo 2), add filling (photo 3), add pastry (photo 4), brush bread with butter and pastry with egg wash (photo 5), bake (photo 6).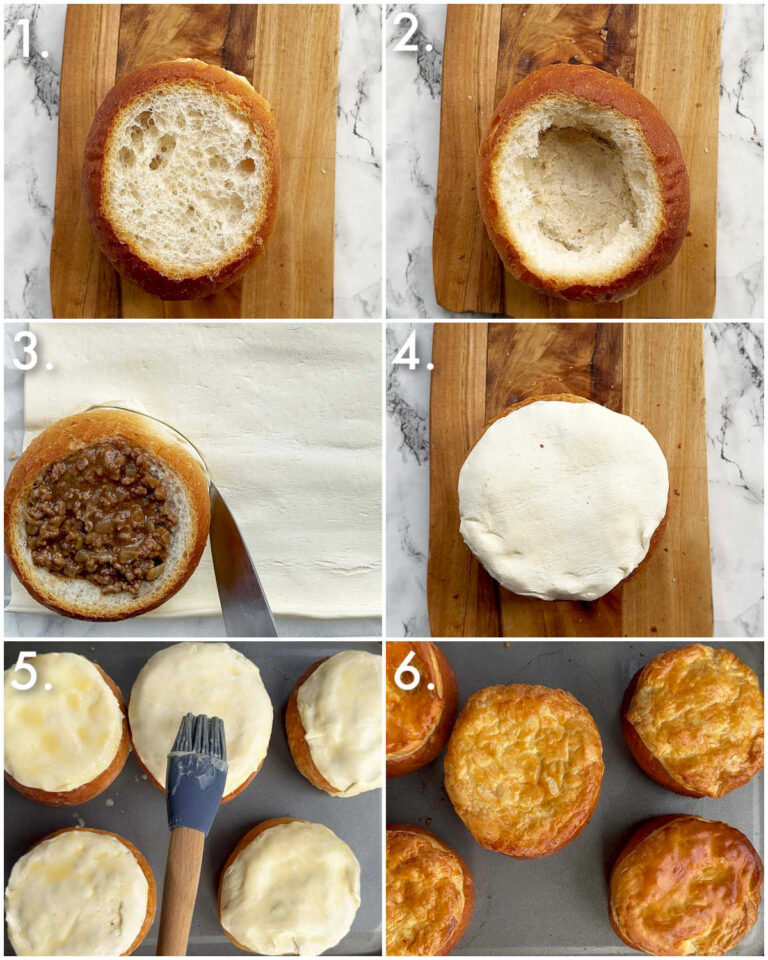 Bread Roll Pies FAQ
How do I prevent the bread from going soggy?
So long as you're using crusty rolls and you press in the filling to build a wall, you'll be absolutely fine! Also just make sure the filling cools a little before you add it to the bread.
Can I use shortcrust pastry instead of puff pastry?
I highly recommend puff pastry to ensure the pies are nice and crisp!
Can I use a different filling?
Sure! So long as its consistency is nice and thick you should be absolutely fine to experiment with different fillings.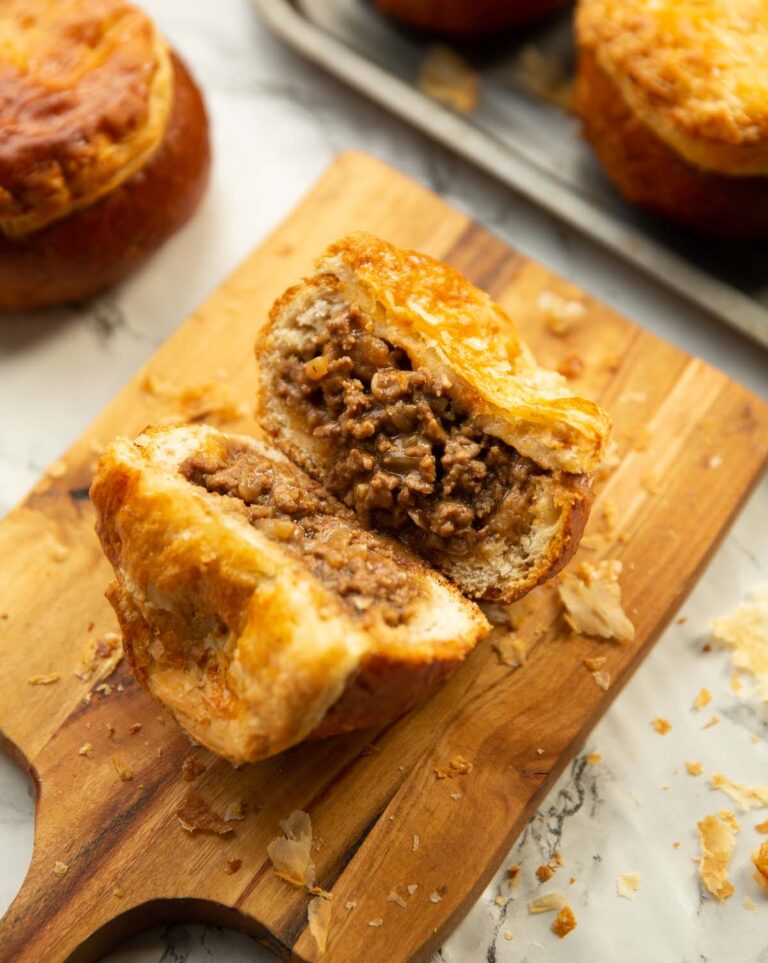 Serving Bread Roll Pies
I love a squirt of brown sauce (or even ketchup) but they're so great as they are!
Alrighty, let's tuck into the full recipe for these bread roll pies shall we?!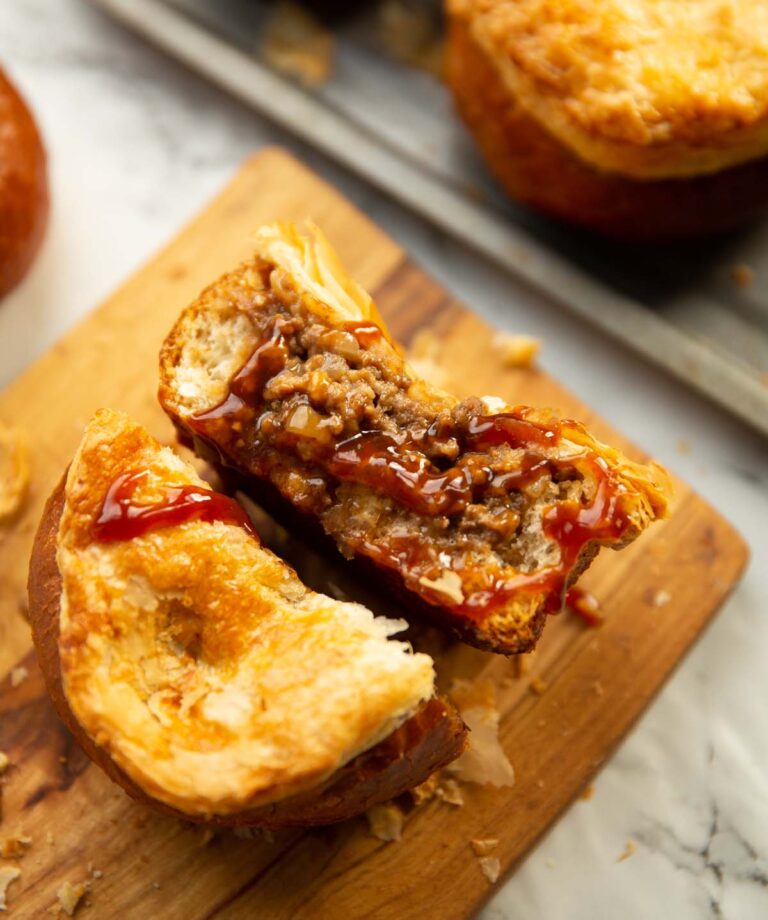 How to make Bread Roll Pies

 (Full Recipe & Video)
Beef and Onion Bread Roll Pies
These bread roll pies are the new handy way to enjoy a delicious beef and onion pie!
Equipment
Sharp Knife & Chopping Board

Large Pan & Wooden Spoon

2 Small Bowls & Brush

(one for butter, one for egg wash)

Large Baking Tray
Ingredients
1

tbsp

Olive Oil

1

large

White Onion, finely diced

1

large clove of

Garlic, finely diced

500g / 1lb

Minced/Ground Beef (12%)

2

tbsp

Flour

480ml / 2 cups

Beef Stock

1/2

tbsp EACH:

Worcestershire Sauce, Tomato Ketchup

1x

Beef Oxo Cube, crumbled (see notes)

1/2

tsp

Onion Powder

1/8

tsp

White Pepper

5x

large

Crusty White Rolls (see notes)

1x

320g/11oz sheet of

Puff Pastry

1

tbsp

Butter, melted

1

Egg, beaten
Instructions
Add the oil to a large pan over medium heat. Add the onion and gently fry until soft and starting to turn golden, then add the garlic and fry for a minute longer. Add in the beef and fry until browned, breaking it up with your wooden spoon as you go.

Stir in the flour until well combined, then gradually pour in the stock, stirring as you go to prevent lumps from forming. Stir in the Worcestershire sauce, ketchup, Oxo cube, onion powder and white pepper and bring to a simmer. Lower the heat slightly and simmer for around 25 minutes until the gravy is nice and thick, stirring occasionally. Cool for 10 minutes. Meanwhile, preheat the oven to 200C/400F.

Slice the tops off of the rolls and use your hands to press the filling to the outside and bottom of the roll. This will form a protective layer to prevent the roll from going soggy. Spoon in the filling, then slice out 5 circles from the pastry the same size as the rolls and press them on top of the rolls.

Place the pies on a large baking tray, brush the bread with butter and then the pastry with beaten egg. Slice a couple of steam holes in each pie, then place them in the oven until the pastry is deep golden and crispy (usually 18-20 minutes).

Slice in half then tuck in!
Notes
a) Stock – I use 1 Knorr stock cube (1 cube = 450ml water). You could also use premade/homemade stocks. I don't recommend using Oxo cubes because we've got an extra one sprinkled in (you'd need 3 cubes to make 500ml stock!).
b) Oxo cube – This is a key ingredient. It deepens the flavour and makes the mince more 'beefy'. This also adds more salt to the mince, so I typically don't find you need much more extra. Just go easy and work to taste. You can use a beef bouillon cube or 1 heaped tsp bouillon powder.
c) Consistency – The filling should be quite thick (see video for reference). If it's too watery the bread won't crisp up properly. Also, cooling the filling helps prevent the pastry from steaming and going soggy.
d) Rolls – Important you buy rolls that are firm and crusty to ensure the pies keep their structure as they bake. They should almost sound hollow to tap. I use the 'White Crusty Rolls' from Sainsbury's and they work perfectly (found in the bakery section). If you're concerned your rolls might be too soft, just slice the top off and press in the centre, then bake in the oven at 180C/350F for 5 minutes or so to dry them out and firm them up a little. For reference, the rolls I use are about 12cm/4.5-5″ wide. You might need more than 5 depending on how small they are.
e) Serving – I love a squirt of brown sauce (or even ketchup) but they're so great as they are!
f) Calories – Per pie. Slight overestimate as not all the pastry is used!
Nutrition
Calories:
761
kcal
|
Carbohydrates:
55.33
g
|
Protein:
29.31
g
|
Fat:
46.29
g
|
Saturated Fat:
14.243
g
|
Polyunsaturated Fat:
4.718
g
|
Monounsaturated Fat:
23.299
g
|
Trans Fat:
0.958
g
|
Cholesterol:
107
mg
|
Sodium:
659
mg
|
Potassium:
460
mg
|
Fiber:
2.6
g
|
Sugar:
4.76
g
|
Vitamin A:
146
IU
|
Vitamin C:
3.3
mg
|
Calcium:
110
mg
|
Iron:
5.56
mg
---
The post Beef and Onion Bread Roll Pies appeared first on Don't Go Bacon My Heart.